Workshop to Cover Infrastructure Development Challenges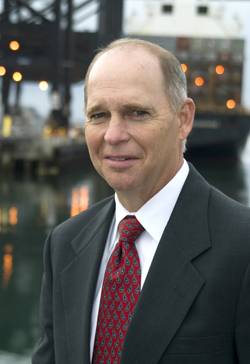 Sponsored by the American Association of Port Authorities and hosted by the Unified Port of San Diego, a workshop examining port-related economic development programs, analyzing solutions to development/funding challenges and quantifying results will be held Feb. 20-21, 2014 (Day 1, 8:00 a.m. -5:00 p.m.; Day 2, 8:30 a.m.-12:30 noon) at the Hilton San Diego Bayfront, 1 Park Boulevard, San Diego, Calif.

Among the key topics on the minds of Western Hemisphere port development, marketing and logistics executives is how to implement and fund transportation infrastructure projects for the growing volumes of goods, both imports and exports, as well as cruise ship passengers, that are flowing through their facilities as world economic conditions improve.

To address these and related questions, the American Association of Port Authorities' (AAPA) 2014 Maritime Economic Development Workshop, Feb. 20-21 in San Diego, will feature a host of business and logistics experts, shipping company executives, infrastructure development case studies and a unique three-hour "facilitated dialogue" session to bring the collective knowledge of the entire audience to bear in solving some of the port industry's toughest economic challenges.

"Seaports in the Americas are investing billions of dollars to improve their infrastructure, expand their services, enhance their cargo- and passenger-handling capabilities, create jobs and assist businesses looking to tap into the increasing global demand for both raw materials and domestically-manufactured products," said Kurt Nagle, AAPA's president and CEO. "In order to effectively compete, seaports must deal with issues ranging from finding investment partners and passing effective freight policy legislation at the federal level, to convincing their local and regional stakeholders the investments they are proposing are necessary and worthwhile."

He added, "Similar to Canada, the Caribbean islands and many Latin American countries, the U.S. needs to invest significantly in its port facilities if it wants to compete as a maritime nation. Focusing on port infrastructure as a separate aspect of international trade obscures the dependence of seaports on a robust domestic surface transportation system."

As the Maritime Economic Development Workshop's host, the Unified Port of San Diego will be prominently featured with presentations by port executives, city leaders and representatives of businesses that utilize and benefit from its many facilities. "The Port of San Diego is thrilled to host this important conference of economic development professionals," said Wayne Darbeau, president and CEO of the Port of San Diego. "Like our sister ports in AAPA, the Port of San Diego is a key player in the economic diversity of our region, with our maritime, industrial and tourism businesses supporting a total of 57,000 jobs."

Confirmed workshop speakers include (in alpha order):
Lauren Kotas Brand, Director - Office of Marine Highways & Passenger Services, U.S. Dept. of Transportation, Maritime Administration, Washington, DC
Mark Cafferty, President/CEO, San Diego Regional Economic Development Corp., San Diego, CA
Kerry Cartwright, P.E., Director of Goods Movement, Port of Los Angeles
Tina Casgar, Goods Movement Policy Manager, SANDAG, San Diego, CA
Brandy D. Christian, Vice President – Strategy & Business Development, Unified Port of San Diego
Marlee Ehrenfeld, President & Creative Director. MJE Marketing Services Inc., San Diego, CA
Stan Gabara, Executive Vice President-Automotive, Pasha Group, National City, CA
José Antonio Gómez Bazán, President, Camposol Fresh USA, Ft. Lauderdale, FL
Emma Griffith, Director, Fitch Ratings, New York, NY
Dr. J. Lee Hutchins, Jr., PE, AICP, Director, Freight Logistics & Planning, AECOM Transportation, Chicago, IL
Giora Israel, Senior VP - Global Port and Destination Development, Carnival Corporation, Miami, FL
Stuart Jablon, Vice President of Operations, Dole Fresh Fruit Company, Wilmington, DE
Jim MacLellan, Director of Trade Development, Port of Los Angeles
Kurt Nagle, President/CEO, American Association of Port Authorities, Alexandria, VA
Bob Nelson, Vice President, Board of Port Commissioners, Unified Port of San Diego
Ron Popham, Principal - Trade Development, Unified Port of San Diego
Mark Richards, Principal, Associated Warehouses Inc., Orange, CA
Richard D. Steinke, Ports Practice Leader, Moffatt & Nichol, Long Beach, CA
Mark Tollini, Senior Deputy Port Director, Port of Stockton (CA)
Joel Valenzuela, Director of Maritime Operations, Unified Port of San Diego
Karen J. Weymann, Director of Real Estate, Unified Port of San Diego

aapa-ports.org