Dubai Launch Maritime Green Initiative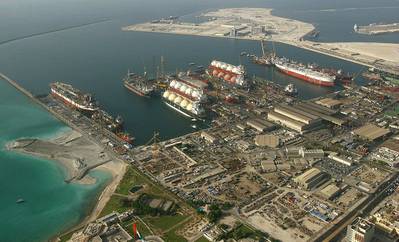 Drydocks World & Maritime World's initiative aims to encourage all-round environmental excellence in maritme & allied sectors.
The initiative was inaugurated in the presence of key decision-makers from government and industry, underlined by a MoU for green technology signed with classification society DNV and Rolls-Royce.
Khamis Juma Buamim, Chairman of Drydocks World and Maritime World said: "We are at the threshold of a new era in environment management for maritime sustainable development. Inculcation of green values has become a necessity and the Initiative seeks to achieve this by bringing together like-minded organizations and changing established mindsets to motivate the industry to embrace environment friendly technology and solutions."
"We seek to develop this network within the region and around the world as our primary focus. DDW will take a leadership role in implementing Green technology solutions by developing a new product the 'Green Tug,' a LNG powered tug which will comply with new emission control regulations. We plan to take on a leadership role in developing technological solutions by using green technology."
The main aim of the Initiative would be to encourage companies engaged in research and development on green design, to disseminate green solutions for efficiency improvement in the maritime industry as well as shipyard concepts, demolition and waste management, project financing, relevant equipment manufacturers & suppliers, classification societies & regulators, shipbuilding and offshore fabricators and integrated solution providers. The role of the Initiative would also be to encourage government departments to arrive at environment friendly policies.

Neil Gilliver, Rolls-Royce, President – Merchant said: "This green initiative taken by Drydocks World is a milestone achievement for Dubai as a whole and will surely position Dubai as one of the leading maritime nation in future green shipping. It will create many opportunities and will promote a Greener Dubai and will be a step forward for the shipping industry in UAE and the Middle East region.