SE Asia Oil Spill Response Initiative Launched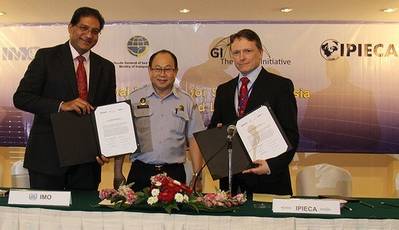 IMO & IPIECA, the global oil and gas industry association for environmental and social issues, jointly launch a new Global Initiative (GI).
The GI programme, aimed at improving the oil spill preparedness and response capabilities in south east Asia was launched at a recent regional workshop in Jakarta, Indonesia.
IMO and IPIECA have, for a number of years, been working with their international and regional partners to establish this new regional programme, which demonstrates a major commitment from both Government and industry to improve oil spill preparedness and response in the region. This new joint-initiative will build collaboration and create a forum for joint action, focusing on practical activities such as training, workshops and joint exercises in the field of oil spill preparedness and response.

More importantly GI-SEA will also support the objectives of the ASEAN Oil Spill Response Action Plan (ASEAN-OSRAP) being developed by the ASEAN members with the support of the IMO Integrated Technical Co-operation Programme (ITCP).
The GI South East Asia programme was initiated to address an increased level of oil spill risk due to higher levels of shipping traffic, and increased exploration and production activities across the region. A full-time Project Manager based in Singapore, employed by IPIECA, will oversee the GI-SEA programme activities.

In the picture: Left to right: Jose Matheickal, Marine Environment Division, IMO; Captain Yan Risuandi, Director for Marine Safety and Acting Director for Sea and Coastguard of the Directorate General of Sea Transportation, Ministry of Transport, Indonesia; Brian Sullivan, Executive Director, IPIECA.