FPSO Arrives in Brazil to Integrate Modules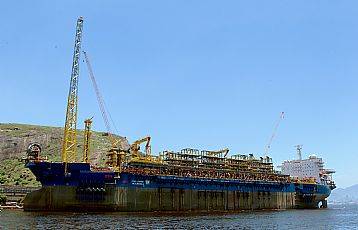 The FPSO Cidade de Ilhabela, the floating oil and gas production, storage and offloading vessel scheduled to operate in the Sapinhoá field, Santos Basin, has arrived at the Brasa shipyard in Niterói (RJ) to finish lifting and integrating thirteen modules into its processing plant. The new platform was converted from an oil tanker at the CXG shipyard in China.

The modules will be integrated at the Brasa shipyard in a partnership with companies SBM Offshore and the Synergy Group. The shipyard is also responsible for building thirteen of the eighteen modules for the FSPO's processing plant.

The platform, which has the capacity to store up to 1.6 million barrels of oil, is due to come on-stream in the second half of 2014. It will be installed in 2,140 meters of water and will have capacity to process up to 150,000 barrels of oil per day (bpd) and compress 6 million cubic meters of gas. The FPSO Cidade de Ilhabela arrived in Brazil on December 29 and has been docked at the Brasa shipyard since January 12.

The consortium that owns the Sapinhoá field concession, in BM-S-9 block is operated by Petrobras (45%), in partnership with BG E&P Brasil (30%) and Repsol Sinopec Brasil (25%). The FPSO Cidade de Ilhabela was chartered to the SBM/QGOG consortium (Queiroz Galvão Óleo e Gás), who will also be responsible for operating the unit.

FPSO Cidade de Ilhabela Data
Oil processing: 150,000 barrels/day,
Gas Treatment and Compression: 6 million m³/day;
Injection water treatment: 180,000 barrels/day;
storage capacity: 1.6 million barrels of oil,
water depth: 2,140 meters,
Total Length: 344.9 meters,
Beam: 58 meters,
Height: 30.3 meters;
Weight: 75,000 metric tons.