MPE Helps on Stena Ferry Interior Refit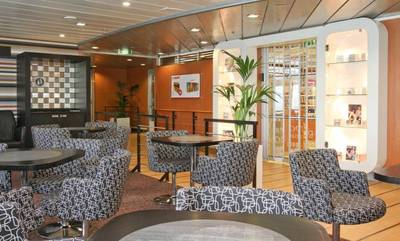 MPE Interiors has completed a contract for ferry operator Stena Line to deliver an extensive fit out on the Stena Adventurer vessel.


MPE carried out the refurbishment works at the forward end of passenger decks seven and eight on the vessel which operates between Holyhead, on Anglesey, and Dublin Port.


"This is another great project for MPE Interiors to win and continues our long standing relationship with Stena Line," said Cliff Grainger, MPE director. "The job follows similar works which we completed on the Stena Mersey and Stena Lagan over the summer. This background has given us a strong understanding of the customer, their high standards and the nature of their vessels."


"On this job we have worked on the 'Stena Plus Lounge' on Deck eight. This includes installing new seating for extra comfort and creating a more spacious lounge and dining area with a media room and quiet area. We have also upgraded the shop with a new more spacious layout. On Deck seven, meanwhile, we have upgraded the servery with a new seating and table layout. We have further installed new seating and reworked a cinema room and children's area in the forward viewing lounge."


Mr Grainger said MPE offers the complete outfitting service, from detailed concept design, and strip out to the manufacture, installation and maintenance of furniture, soft furnishings, wash rooms as well as walls and flooring.


MPE's work on the Stena Mersey' and ' Stena Lagan' saw it redevelop the crew and officers' mess on both vessels which operate the Liverpool (Birkenhead) to Belfast route.


The contracts on the 980-passenger ferries were carried out at Twelve Quays, in Birkenhead, with MPE carrying out a total refurbishment of the mess hall, which was split between an officers' mess and a crew mess, and also laid new floorings.