Cruise Ship Wins Seventh Interior Design Award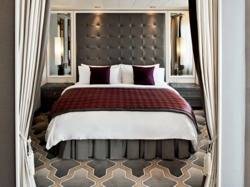 Crystal Cruises' 'Crystal Serenity' wins Hospitality Design Magazine's 'Judge's Award for Distinctive Cruise Design'
Crystal Cruises' largest ship, Crystal Serenity, has won its seventh award since undergoing a $25 million redesign last year – Hospitality Design (HD) magazine's "Judges Award for Distinctive Cruise Design." This is the first time a cruise line has ever been recognized in the trade publication's annual awards.
"Because design is such a key sensibility of discriminating travelers, we have always been committed to creating ultra-stylish spaces in which our guests can feel at home," says Alexandra Don, Crystal's vice president hotel services and design. "It's incredibly gratifying to have the industry confirm that our latest vision was something markedly different from an archetypal cruise ship look, and in good company with the most beautiful of luxury hotels on land."
Additional honors recently bestowed upon Crystal Serenity include #1 Cruise Ship (Mid-Sized) from Conde Nast Traveler and Berlitz Complete Guide to Cruising and Cruise Ships, the Association of Retail Environment's Crystal design award, and three Travel Weekly Magellan Awards, for luxury ship, suite and stateroom designs.
All 535 staterooms, retail spaces, outdoor pool deck, corridors, and more received a chic "Fifth Avenue"-style facelift during two weeks at Hamburg's Blohm + Voss shipyard last May. Crystal Symphony will be undergoing her own redesign there this June, completing a five-year plan to redesign the entire vessel.