Plans in Place to Test Intermodal River Transport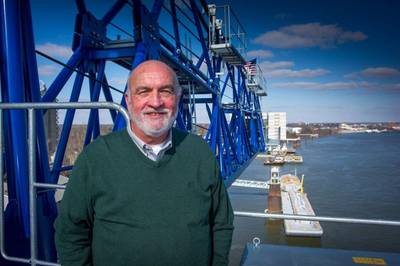 The Paducah-McCracken County Riverport Authority and Ingram Barge Company has announced plans to assess the viability of Intermodal River Transportation, utilizing the largest flat-top crane in North America owned by the Paducah Riverport Authority and Ingram's towboats and barges.

The Paducah Riverport Authority owns the 200-ton, Linden Comansa, the largest flat-top tower crane in North America, with a lift capacity of 53 tons up to 100 feet from the tower, and a boom that stretches 250 feet. Ingram Barge Company owns and operates 140 towboats and nearly 5,000 barges on U.S. inland waterways. Together, the Paducah Riverport Authority and Ingram will conduct a trial run of moving intermodal containers via barge on the inland waterways.

The Linden Comansa crane will load empty intermodal containers, obtained from Pac-Van, Inc., onto an Ingram barge using a container handling attachment generously donated by Greenfield Products, located in Union City, TN. An Ingram towboat will transport the barge with the containers to the port of St. Louis and then back to Paducah for unloading. The trial run is to test the logistics of moving the intermodal containers via barge.

The Riverport's decision to install the new, multimillion dollar Linden Comansa crane last year was a combination of an increase in shipments and traffic on the inland waterways in recent years, and the highly anticipated completion of the expansion of the Panama Canal, which is sure to create bigger shipments, more cargo, and a demand for faster turnarounds. The Riverport also has applied for Foreign Trade Zone designation, which could yield economic opportunities for the entire Paducah area.

Prior to the new crane, the Riverport had used a 20-ton capacity Linden crane for nearly 40 years. The older crane was capable of loading or unloading one barge at a time, but the new Linden Comansa crane can load or unload two barges at a time, at a faster rate and with a greater load capacity. Currently, the Paducah Riverport Authority moves about 875,000 tons of cargo a year, equating to the loading and unloading of about 400 barges.