Marcon International Brokering Tarsiut Island Caissons in Arctic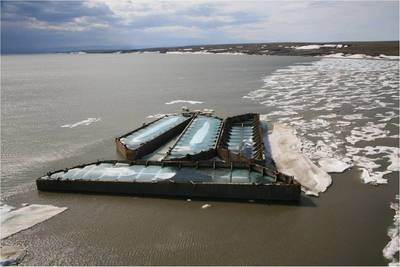 Marcon International, Inc. of Coupeville, Washington has been chosen to market four concrete caisson section constructed in 1981 to drill exploration wells in the shallow Beaufort Sea.
The hollow reinforced light-weight concrete caisson sections, each abt. 69m long x 15m wide x 11.5m high and weighing abt. 5,000 tonnes, were designed and constructed for the Tarsiut Island project, the first 100m diameter caisson-retained island built for drilling in the Arctic offshore. The caissons were arranged in a square, backfilled and standing on top of submerged sand berm. Designed to be bottom founded, the caissons act as retention berms to contain and protect artificial island made of sand and can be repositioned for other purposes such as breakwater, dock, etc.
The Tarsiut caissons were the first caisson-type structure used in the Arctic. They were floated to a berm at the drilling site and after being ballasted down with sand the internal core was filled with dredged material. The 7947m2 structure was used to drill one well in 1981/82 and left on site and during the winter of 1982/3 a dedicated research program carried on the platform.
The caissons have been stored, bottom founded near-shore in Thetis Bay, off the coast of Herschel Island in the Canadian Beaufort Sea since 1984. Caissons have been repositioned, most recently in 2001, and various inspections conducted, demonstrating continued general structural integrity (e.g., no leaching of materials). Annual inspections conducted to document damage or movement.
Caissons can be shipped via submersible barge or independently towed short distances.
Further technical specifications, background information, small drawings and photos of the caissons can be found on Marcon's website.
Over the years Marcon International Inc. has brokered a number of supply vessels, barges and tugs out of the Canadian Arctic. To date this year Marcon has nineteen sales and charters worldwide. Several additional sales are pending and expected to close within the next couple of weeks. Looking back over the past 31 years, Marcon has averaged about 42 sales / charters per year. Since our first sale, Marcon has brokered over 1,270 vessels and barges.