SOHAR Port Signs Contract with Dredging International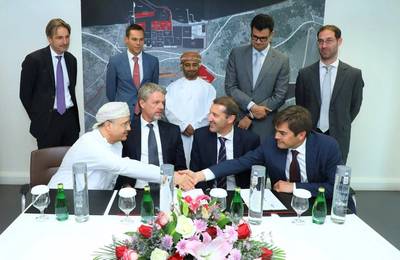 SOHAR Port and Freezone have signed an agreement with Dredging International NV – Earth Moving Worldwide LTD (DINV-EMW JV) for the development of Phase 1 of the SOHAR Port South Construction Package I.
Totalling an investment of USD 24mn (approx. OMR 9.24mn), the agreement will see the development of the first 50 hectares of useable land within the new port expansion; which is expected to be fully completed by Q4 2018.
The agreement was signed on April 18 at a ceremony held at SOHAR Port and Freezone head office in Sohar. Signing the agreement on behalf of SOHAR was the CEO, Mark Geilenkirchen, and DCEO- CEO SOHAR Freezone, Jamal Aziz; while DINV-EMW JV were represented by Alberto Mino, Area Manager of Dredging International NV, and Yves Aertssen, Director of the EMW group.
Commenting on the importance of expanding operational capacity at the port, Mark Geilenkirchen noted, "This expansion is essential for SOHAR to compete on a larger scale, and highlights our emergence as a logistics hub of choice within the
Middle East
. The development is driven by the continued growth we've experienced year-on-year, and the rapid rise of the logistics sector as a whole across Oman."
Mark added: " The SOHAR Port South Development will support increased trade flows in the Sultanate and will allow shipping lines to launch more direct calls to the port, opening the doors to a greater variety of customers coming to SOHAR in the future. The added land area at the port will significantly boost our abilities to handle larger volumes of cargo traffic as well as create new and sustainable jobs in Sohar."
The SOHAR Port South Development involves extensive land reclamation, which will ultimately add 200 hectares in total to the present capacity of SOHAR Port, which currently stands at around 2,000 hectares.
Under the terms of the development agreement, The First Phase includes the engineering, land reclamation and stabilisation, and construction of approximately the 50 hectares of usable land within the port area, together with soil improvement, 1,310m of shoreline protection, storm water drainage, and navigation aids. The Contractor will also be responsible for managing interfaces between neighbouring facilities and infrastructures.
The vital reclamation project will facilitate the ever-increasing demand for space at SOHAR and will involve over 750,000m3 of earthworks in order to reclaim the area from the sea. Another major task of the construction process is the 1,310m shoreline protection, which will require in excess of 450,000 tonnes of rock.