Former IMO Leader to Get International Maritime Prize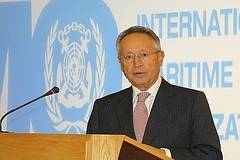 Former Secretary-General Mitropoulos to get 2011 International Maritime Prize
The IMO Council has unanimously agreed to award the prestigious International Maritime Prize for 2011 to Mr. E.E. Mitropoulos, Secretary-General Emeritus of IMO, Secretary-General of the Organization from 2004 to 2011, for his significant contribution to the work of IMO during a long and distinguished career with the Organization.
In nominating his candidature, the Government of Greece drew attention to Mr. Mitropoulos's many achievements, which have resulted in increased worldwide recognition of IMO's organizational effectiveness and efficiency as a UN body. The nomination highlighted his strong and insistent advocacy of a united Membership and the adoption of an effective global maritime safety and security culture, environmental consciousness and corporate responsibility, noting in particular the efforts made by the Organization under his leadership to assist in the prevention and suppression of acts of piracy and armed robbery against ships, including the adoption of guidance to shipowners, ship operators, shipmasters and crew, as well as recommendations to Governments.
The International Maritime Prize is awarded annually by IMO to the individual or organization judged to have made the most significant contribution to the work and objectives of IMO. It consists of a sculpture in the form of a dolphin and includes a financial award, upon submission of a paper written on a subject relevant to IMO.
The prize will be presented to Mr. Mitropoulos at a special ceremony, on a date to be arranged.