Offshore Vessel Operators Gain International Safety Award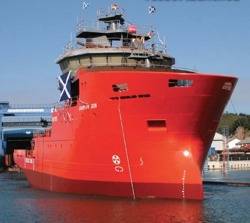 North Star Shipping gains International Safety Award from the British Safety Council
North Star Shipping has received a prestigious international award from one of the world's leading health and safety training, advisory and audit bodies.
Following rigorous assessment by an independent adjudication panel the British Safety Council has bestowed its International Safety Award on North Star Shipping for the eleventh consecutive year.
For an organisation to win this award it must demonstrate that it has in place comprehensive health and safety policies, targeted plans and a clear commitment to health and safety from the shop floor to the boardroom. It must be committed to the promotion of a positive safety culture. The winning organisation must also have demonstrated the competence of those responsible for the management of health and safety and provide clear evidence about the improvements they have achieved in health and safety during the year.
Mr Brian Nimick, Chief Executive of the British Safety Council, says: "For more than 50 years, we have led the way in promoting health, safety and environmental best practice in society. In the 21st century, many organisations worldwide are now making health and safety a top priority. Through achieving an International Safety Award, North Star Shipping is helping to make our vision of a safe working environment a reality."