Interview: John Waterhouse, EBDG - "Be Bold in Thinking but Cautious in Application"
"I think we need to be bold in our thinking, but cautious in our applications. It doesn't cost that much money to play around with ideas; and that small investment could turn up some great benefits. But if you're afraid to make that initial investigation, things will pass you by." John Waterhouse, Elliott Bay Design Group
EBDG at the Passenger Vessel Association event earlier this year.
John Waterhouse is a ubiquitous character in the U.S. maritime industry, a deep-thinker, a signature bow tie and more than three decades of naval architecture and marine engineering experience and success as co-owner of the Seattle-based Elliott Bay Design Group (EBDG).

While growing up, John Waterhouse spent some time in Vancouver, BC, Canada, and it was as a young boy standing on the shores of English Bay, watching ships come in from around the world to load and unload their cargos, when he realized that a maritime career could be his future. "It was in high school when the light bulb went off when I realized that people get paid to design ships. That was it for me," he said.
Following his undergrad studies at UC Berkeley, Waterhouse took a year off on a sailboat journey around the Pacific before returning home and taking a position with Nickum and Spaulding Associates, a Seattle-based naval architecture and marine engineering firm. He eventually went on for his Master's Degree in Naval Architecture and Marine Engineering at MIT, returning to Nickum and Spaulding in 1984.
"There were about 100 people in the firm at the time, doing work for the U.S. Navy on the LSD 41 class," he said. But in the mid-1980s the bottom literally fell out of offshore energy, commercial shipbuilding and eventually naval shipbuilding in the U.S., and in a matter of three years Nickum & Spaulding went from a vibrant firm to closing its doors in 1987. "These were some very tough times when I started my career," Waterhouse remembers. "I was just an employee at the time, but I thought 'there's too much good stuff here' to simply walk away." So, Waterhouse and two partners, Ken Lane who is a principal now with The Glosten Associates and Annette Grimm, who has since moved on to other interests, bought most of the assets of Nickum and Spaulding, and in January 1988 the firm re-opened its doors as Elliott Bay Design Group.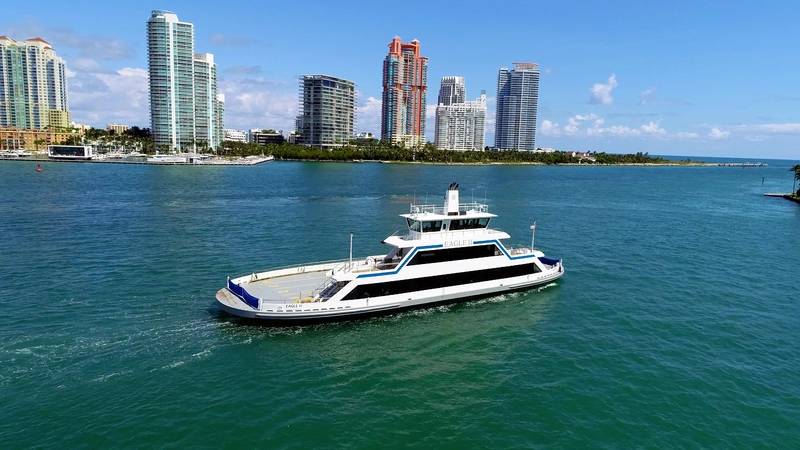 Fisher Island Community Association – passenger/vehicle ferry. Photo: EBDGEBDG: A Fresh Start"It was a challenging time to start my career, and a challenging time to start a new engineering firm," Waterhouse said. When the firm re-opened it had the support of the former owners to help retain some of its legacy clients, including Black Ball Ferry Line and its M.V. Coho, a ferry designed by Phil Spaulding which still runs today between Victoria and Port Angeles.
Today EBDG is 51 employees – including 27 professional engineers and seven project managers – up from six employees when the firm restarted in 1988. With four offices in Seattle, WA; Ketchikan, AK; Covington, LA; and Port Chester, NY, EBDG handles approximately 130 projects annually. "At the end of the day, our customers are looking for us to help them solve problems," is how Waterhouse simply defines the purpose of his firm. "Ferry boats have been a part of our heritage from the start, and it's been a really good run through a renewal cycle for ferry vessels in the United States. We have continued to support several ferry projects , including, some of the largest ferry operators in the US - Staten Island, Texas DOT, N. Carolina DOT, Washington State DOT."
Much innovation in maritime (and beyond) is driven by emerging regulations, none more important today than the mandate to reduce carbon emissions from shipping. But innovative solutions in and of themselves are not the mission of EBDG. "It's not like our customers are sitting on piles of cash that they want to spend on interesting engineering projects," said Waterhouse. "They are looking hard at their margins to figure out how they can trim to stay in the business or make a return to their shareholders. Transportation is a tough industry; there's lots of competition and its historically been a drive to greater efficiencies, which often means that the margins get thinner and thinner." Like the maritime industry it serves, EBDG has had its fair share of ups and downs. "We have had our feast and famine days," said Waterhouse. "The famine side of the business is certainly no fun, because the people you work with are not simply numbers on a ledger, they are your friends, you know their families. Keeping business coming in the door has been a large part of my focus for 30 years."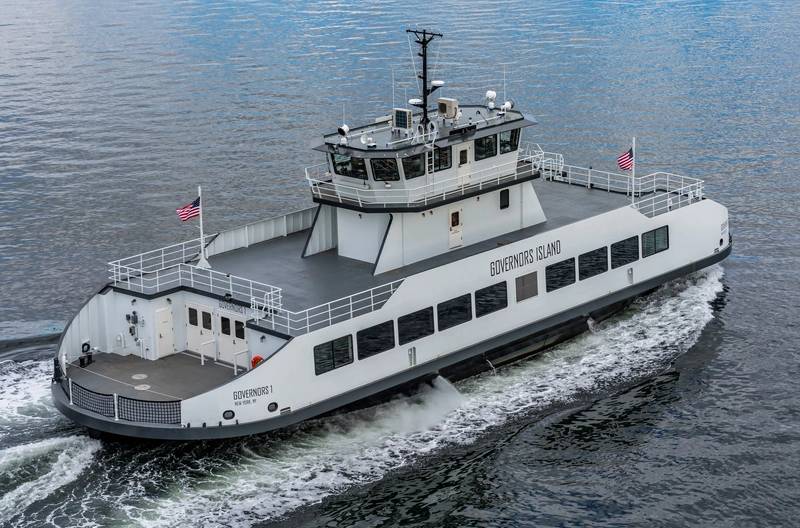 Governors Island passenger only ferry delivered May 23, 2019. Photo: EBDGEvolving Technology
From pencils, drawing boards and slide rules to 3D modeling and computing in the cloud, the tools used to design vessels have changed dramatically since 1988. While technology acceleration has assisted firms like EBDG to "develop things quicker, faster and better" Waterhouse warns that technology in and of itself is not an answer. "One of my biggest fears is an over-reliance on technology that is not backed up with experience and common sense," said Waterhouse. "Your people still need to have enough calibration and the ability to do a back of the envelope calculation using first principles to reassure themselves that what they're getting out of the computer is indeed reasonable."
EBDG, similar to others in the industry, battles with an aging workforce and the grooming of the next generation. "We deliberately focus on knowledge transfer between our senior engineers and new generation of engineers through internal training and seminars, as well as getting them in the field together. For the maritime industry as a whole, the transfer of that tribal knowledge is a concern."
Melding traditional engineering skill with modern tools is sharply in focus today in maritime as "it is a fourth marine industrial revolution … from sail and wood to iron and steam to steel and internal combustion to … we are very much seeing that 'next turn of the wheel.'"
Determining 'what's next' is the struggle of many vessel owners and designer, as there is no clear front-running technology or fuel today.
"The basic technology of the diesel engine burning distillate has had a pretty good run as a technology … 100 years of success," said Waterhouse.
"And there's no one dominate technology that's going to follow that, it's going to be fractured. Methanol might make sense for one operator while all-electric with batteries makes sense for another. There are even suggestions that nuclear power might make sense in certain applications." Add into that a variety of emerging and mature energy assistance technologies, from Flettner rotors to hull bubbles, undoubtedly, confusion is the norm.
"There are so many technologies out there that it's hard for people to make choices," said Waterhouse. "I see our role as a guide, helping to guide operators through the thicket of different technologies to reach a solution that is appropriate for their operation. There is not a standard or canned solution, it depends on the customer."
As new ship fuels and marine propulsion applications emerge, questions now turn the real cost to the environment of sourcing and using that fuel. "Hydrogen is great but the dirty secret is that it comes from breaking apart natural gas," said Waterhouse. "That's the primary source of commercial hydrogen in the U.S. right now. Can you produce hydrogen from renewable sources? Yes you can, but that infrastructure is not there today."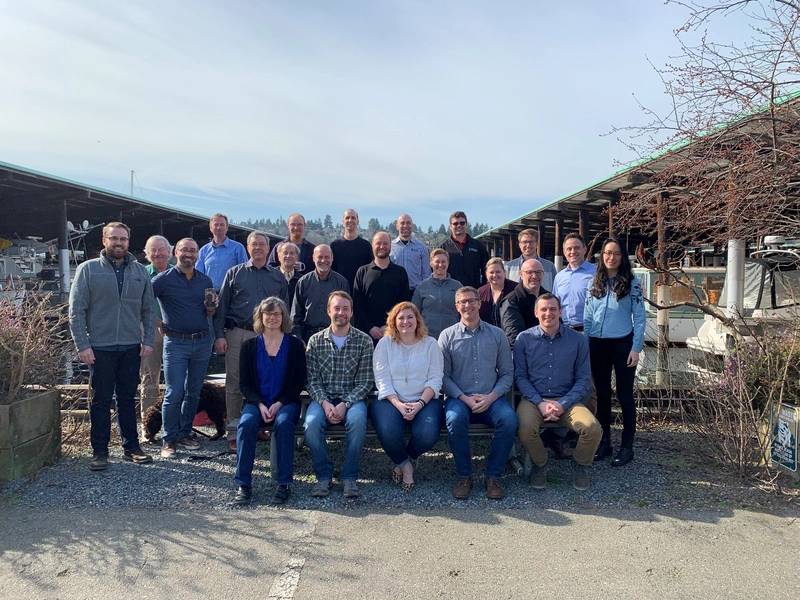 "Russ McComb showed me that good humor, respect, and open communication are what every employee hopes to get from management."Digital Revolution?
Any discussion on the evolution of maritime must include digitalization and autonomy, but according to Waterhouse, neither topic is particularly 'new.'
"Frankly, digitalization has been around for a long time, as we've been using computers to control engines, HVAC systems and provide navigation information," he said. "Today we have the ability (and the challenge) to combine the information from those various digital channels and determine how to use the resulting data so that it is most impactful to your operation."
Waterhouse contends that the real challenge moving forward will center on energy management onboard ships and boats; specifically using less of it via optimized hull forms and systems to recover, store, monitor and manage energy, citing innovations such as the "battery in a box on deck" solution for offshore oil, an energy storage solution that assists during dynamic positioning work when there is a need for brief energy pushes.
He said many clients are looking at autonomous opportunities, "but in reality we have had autonomy at different levels for some time … autopilot, the unmanned engine room are both forms of autonomy. He maintains that the technology is there, as evidenced by autonomous operations in the subsea sector, "but the practical side of me asks; what's going to happen when things start going wrong? The maritime industry is conservative with cause."
"I think we need to be bold in our thinking, but cautious in our applications," concludes Waterhouse. "Don't be afraid to consider. It doesn't cost that much money to play around with ideas; and that small investment could turn up some great benefits. But if you're afraid to make that initial investigation, things will pass you by."


Ask John Waterhouse

How does the current COVID-19 pandemic compare to other business disruptions that you have seen during the course of your career?

The pandemic and concurrent price collapse in the oil and gas industries are once in a century events that will disrupt lives, damage businesses, change social behaviors, and impact the environment. Will our modern technologies prove more robust or more fragile than those at the time of the Spanish Flu pandemic in 1918? We have been able to transition most of our employees to working remotely from home. Some of our contracts have been cancelled but so far we have a decent book of business.

Who do you count as the most influential mentor in helping to shape your career/management style?

Phil Spaulding impressed me with his passion for design. Ed Hagemann showed me the importance of thinking about what the numbers are trying to tell you. Russ McComb showed me that good humor, respect, and open communication are what every employee hopes to get from management.

What is your favorite book?

The Lord of the Rings trilogy.

You have an affinity for history: what is your favorite ship of all time (not an EBDG design) and why?

Wow, this is a hard one. I think the RMS QUEEN MARY has to be my choice. Trans-Atlantic liners were among the most sophisticated pieces of technology of their time. Constructed during a global depression, the vessel served in wartime and in peace with distinction. Contrast the glamour of the first class passengers with the hopes and fears of the immigrant Third Class passengers, all held together by the hard work of the ship's crew, and you have the story of humanity.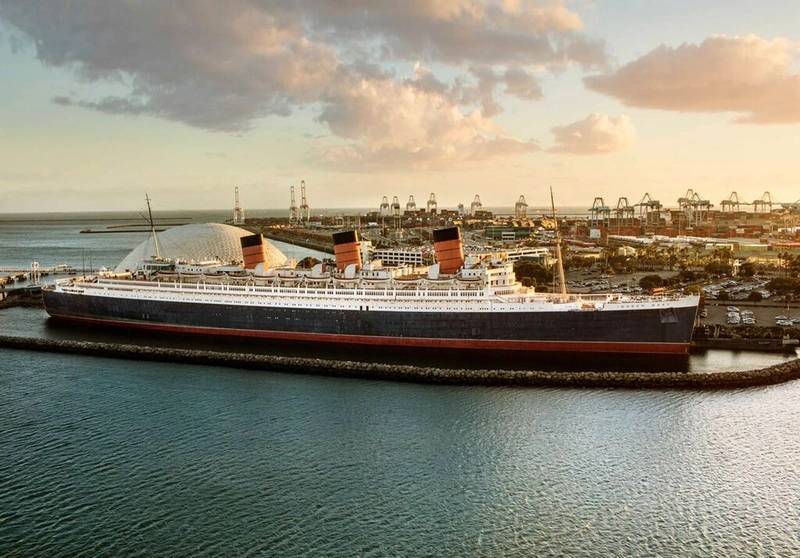 Photo Courtesy Urban Commons