Fleet Operation Software Introduced at Singapore Conference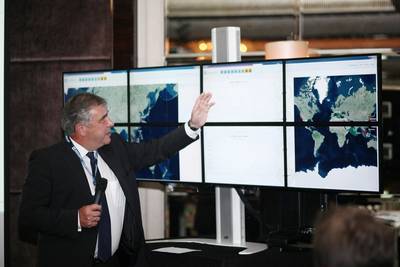 At the recent User Conference, INTERSCHALT's IS Seacos Asia introduced new Fleet Operation Center (FOC) software in which information and trends from ship telemetry are displayed - similar to the way NASA centrally monitors its satellites and aerospace equipment on digital projection screens.
The center links the advantages of the VDR as a data collector with online-monitoring and the monitoring software Bluetracker (also offered by INTERSCHALT) with a versatile nautical and technical control
tool. Bluetracker is a central component of the "Maritime Energy Efficiency Comprehensive Optimization Suite" (MEECOS) from the same company.

The software comprises the interactivity of different INTERSCHALT solutions: the stowage planning software StowMan, the MACS3 loading computer, the trim optimization module TROP and Bluewave for route planning and optimization.

Data can be tracked, analyzed and managed during current operations - whether through special displays for energy efficiency, for analyses and reports, or for determining the best trim (D-TROP) for a route depending on weather data and currents. Through Bluetracker, all data are transmitted to land via satellite. The ship owner/operator can then react and take administrative action.
The FOC provides information at all times on where the vessels are, how efficiently they are traveling, and what should be their optimum trim. The suppliers feel that their product is a major contribution to increasing fleet efficiency and safety.