Hann 40 Peacemaker Intrroduced by Hann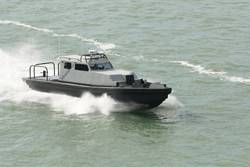 Hann Powerboats, Inc, of Sarasota, Florida, has introduced its Hann 40 Peacemaker, a fast patrol boat.
This all-aluminum boat features twin Cummins 425 HP motors and Arneson surface drives. Designed to support a crew of up to eight, with a 500 nautical mile range, it is a fast and powerful patrol boat. The boat offers an economical patrolling speed of 25 knots, and a fast patrolling speed of 37.3 knots with full level three ballistic protection. When needed, the Hann 40 Peacemaker will sprint toward its target at 44 knots. If you are in need of help or rescue, these speeds could save your life.
Subject to the needs of a commercial company or government agency, the Hann 40 Peacemaker can be equipped with a variety of electronic options, crew seating, and configurations. The initial fleet of Hann 40 Peacemaker boats will serve as escort and patrol craft in the Gulf of Guinea. The first boat is on its way, with additional boats to follow in the first five months of next year. Hann Powerboats, Inc. builds center console, patrol, and fast attack boats from 18 to 50 feet. Hann is a semi-custom builder, and sells direct from its factory.