BSEE, USCG Investigating GoM Rig Fatality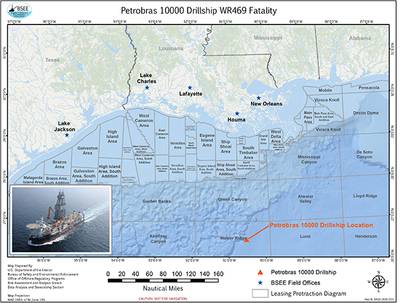 Petrobras America Inc. reported the fatality on board the Transocean Ltd. owned drillship at about 4:45 a.m., December 2, 2017. The rig was in an area of the Gulf known as
Walker Ridge
469, about 172 miles south of Port Fourchon, La.
The deceased worked for Spencer Ogden Ltd. and was participating in pipe handling operations at the time of his injury. No other personnel were harmed in the incident, and there was no pollution as a result of the incident, BSEE said.
BSEE Gulf of Mexico Region Director Lars Herbst has instituted a panel investigation and inspectors have begun conducting a thorough investigation into the cause of the fatality.