Many Islands, Many Ferries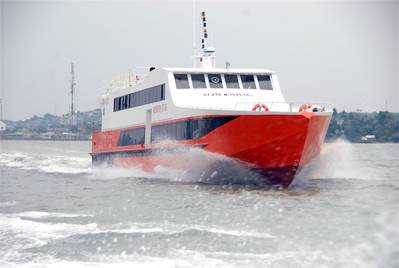 With over 230 million people living on about 13 thousand islands, Indonesia requires a lot of ferries. Shipyards such as PT. Bintan Marina Shipyard are meeting this demand for fast, safe and modern ferries.
The yard's recently designed, built and delivered the fast ferry, MV Super Jet 19, to the associated PT. Pelayaran Nasional Bahtera Bestari Shipping. The new boat continues a tradition of fine looking vessel designs that date back at least as far as the wooden Pinisi boats that continue their centuries old inter-island trade. While perhaps sharing some common ancestry, the MV Super Jet 19 is a vastly different vessel from the earlier inter-island traders. The sleek 34.7-meter by 5.5-meter ferry can transport up to 260 passengers at an average speed of 27 knots. The hull, with a 2.4-meter molded depth, holds tankage for 12,000 liters of fuel and 1,000 liters of water.

The hull also accommodates a powerful pair of Cummins KTA50-M2 engines each delivering 1600 HP at 1800 RPM to ZF Model BW455 gearboxes. Output from the gears is a pair of 110 mm by 5.5-meter long shafts with 1295 by 1016-m/m five-blade propellers. Electric power is provided by a pair of 60 kW generator sets. With a crew of eight, the Super Jet 19 has capacity for up to 280 passengers. The new ferry is operating on a route between Tanjungpinang and Dabo Singkep in Indonesia.