Italian Forces Board Turkish Cargo Ship to 'Liberate' Crew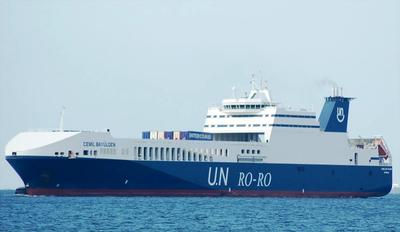 Italian special forces boarded a Turkish cargo vessel on Friday after the crew detected a group of unidentified people onboard, some of them armed, Rome's defence ministry said on Friday, adding the operation was still under way.
Italian minister Guido Crosetto told an event that there were 15 "illegal migrants" on board, but did not provide details on how they managed to get there or their country of origin.
"Now all the crew must be liberated and the ship secured," Crosetto said, adding operations were ongoing.
A Turkish transport ministry statement said the Galata Seaways roll-on-roll-off cargo vessel was sailing from the Turkish port of Yalova to Sete, France.
It said the crew noticed the presence of other people aboard in the late morning on Friday through security cameras, which showed them wandering around the boat possibly carrying sharp objects.
Italy's Crosetto said between two and three of them carried weapons.
The crew locked up themselves in the engine room and alerted maritime authorities in Turkey, which in turn contacted Italy and France.
They subsequently set sail towards the southern Italian city of Naples, the statement said.
(Reuters - Reporting by Angelo Amante, Federica Urso and Yesim Dikmen, editing by Nick Macfie)