Life-like Robotic Jellyfish Unveiled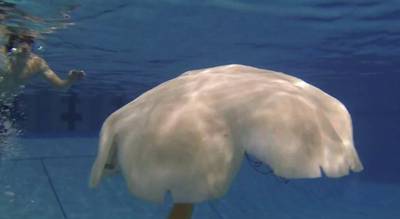 As part of a US Navy-funded project Virginia Tech College of Engineering researchers have unveiled a life-like, autonomous robotic jellyfish.
The jellyfish, the size and weight of a grown man, is 5 foot 7 inches in length and wieghs 170 pounds.
The project aims to develop self-powering, autonomous machines that support various missions such as surveillance and monitoring the undersea environment, as well as studying ocean life, mapping ocean floors and monitoring ocean currents.
The prototype robot, nicknamed Cyro, is a larger model of a robotic jellyfish the same team – headed by Shashank Priya of Blacksburg, Va., and professor of mechanical engineering at Virginia Tech – unveiled in 2012. The earlier robot, dubbed RoboJelly, is roughly the size of a man's hand, and typical of jellyfish found along beaches.