UK Jubilee Convoy Led by LR Classed Royal Barge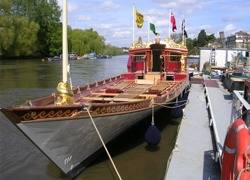 Built under the supervision of Lloyd's Register's UKI Marine Operations Team, the Queen's barge led the Diamond Jubilee Thames pageant
The recently constructed royal row barge led the UK's Diamond Jubilee celebrations this weekend, heading a flotilla of ships along the River Thames.
The barge was built in London and supervised by Lloyd's Register's Southampton-based UKI Marine Operations Team. Keith Vernon, LR's Principal Specialist, said: "While the vessel will not be classed it will be certificated as an MCA Class V Passenger Vessel. To achieve this level of certification, it has been our responsibility to ensure that the hull was built in accordance with the approved plans and that the machinery and electrical aspects comply with our special service craft rules."
"It has been a very interesting project because of the unique character of the project. Our initial concerns centred around LR's limited experience of wood boat-building construction. Fortunately, we were able to recruit a wood specialist for the duration of the project. The special service craft rules do not specifically deal with wood construction so the preceding rules (yacht and small craft rules from 1969), were adopted."
Apart from a team of 18 oarsmen, the craft can move silently through the water with the aid of twin propellers driven by electric motors. The power will be drawn from a bank of Lithium Iron Phosphate batteries. "While the motors are not very powerful, they could be upgraded later on for operation in the lower reaches of the River Thames," said Keith.
The barge, which was launched on 19 April, is the first royal barge to be built for almost 100 years. Post-Jubilee, it will be used for more royal occasions and for corporate events by the Mayor of London.