Jumbo Jubilee Launched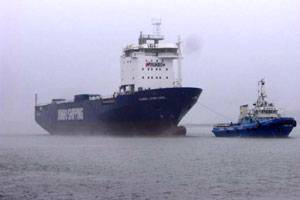 On Saturday, the 15th of November, Jumbo's new J-1800-class heavy lift vessel, MV Jumbo Jubilee, was launched.

The event was celebrated at the Damen shipyard Galatz, Romania, where a crowd watched as the brand new ship was floated and moved from the building dock to the quay, were she will be completed in the coming months.

Delivery is expected spring 2009.

The Jumbo Jubilee, being the last of a series of four ships, features only minor improvements in its design. She was named in honor of 2008, a jubilee year for Jumbo, celebrating the 40th anniversary of Jumbo Shipping and the 60th anniversary of general agent Kahn Scheepvaart.

Meanwhile, her sister ship MV Fairplayer was recently completed at the Huisman yard in Schiedam in fitting and testing her two 900 tons mastcranes.