Princess Cruises Choose Name of New Liner at Keel-laying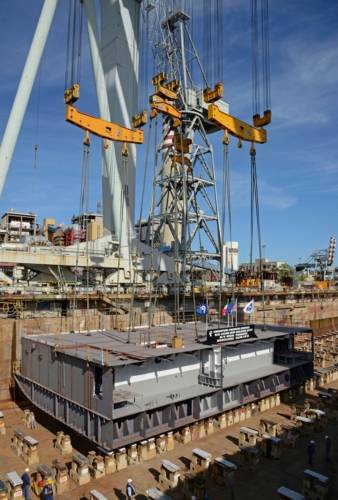 Princess Cruises decide to name new cruise ship 'Regal Princess' as Fincantieri, Monfalcone, Italy lay the keel down.

Following a traditional blessing by a priest, the ship's keel – which weighs approximately 500 tons – was moved into position by a huge crane onto the keel blocks. The computer-guided maneuver took only minutes, belying the more than 2 million man hours that will ultimately go into building the vessel. The 3,600-passenger, 141,000-ton ship will remain in the building dock until its float-out next summer.

The vessel, a sister ship to Royal Princess, will debut in Spring 2014. The company and shipyard officials started the countdown to the ship's launch today as the keel was ceremoniously lowered into position in the building dock.

"Just as Royal Princess was named after one of our iconic early vessels, Regal Princess also takes a name from our past that we think is well suited for this spectacular ship," said Alan Buckelew, president and CEO of Princess Cruises. "Today's keel laying is an exciting event as it marks a key milestone in our newbuilding program."

Amongst other things, Regal Princess will offer many of the same special features as Royal Princess, which debuts in June 2013, including a greatly expanded atrium, the social hub of the ship; a dramatic over-water SeaWalk, a top-deck glass-bottomed walkway extending more than 28 feet beyond the edge of the vessel.