Keppel FELS Completes Rig for Maersk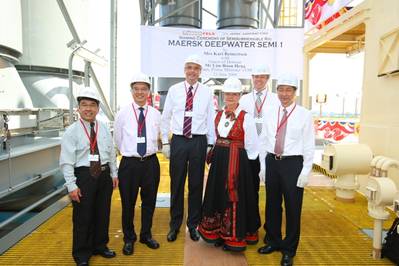 Keppel FELS Limited (Keppel FELS), the wholly-owned subsidiary of Keppel Offshore & Marine (Keppel O&M), and Maersk Contractors have inaugurated the new DSS 21 proprietary design semisubmersible (semi), which is also the most technically advanced deepwater drilling rig to be designed and completed by Singapore to date.
The Maersk Developer was named in the presence of Guest-of-Honor, Mr Lim Boon Heng, Minister, Prime Minister's Office, by Mrs. Kari Reinertsen, wife of Mr Øivind Reinertsen, President of StatoilHydro (North America Operations). The Maersk Developer is the first in a series of three DSS 21 deepwater semi rigs that Keppel FELS is building for Maersk.