Keppel Shipyard to Deliver FPSO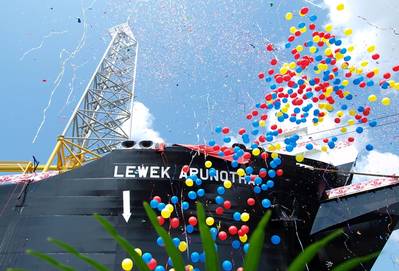 Keppel Shipyard is on track to delivering FPSO Lewek Arunothai to EOC Limited (EOC) for a South East Asian client.
The 725,000 bbls storage FPSO was named at a ceremony on June 21. FPSO Lewek Arunothai is the first FPSO that Keppel Shipyard has converted for EOC.
The first part of the vessel's refurbishment and life extension was carried out at Subic Shipyard in the , while the engineering, procurement and topside fabrication were in progress in . The vessel then sailed to Keppel Shipyard to complete the remaining conversion and integration of topside works.
The vessel can export 175 million standard cubic feet of natural gas per day.
Keppel Shipyard has completed 76 FPSO and FSO projects with 6 more in progress. Its sister yard, Keppel Singmarine is building a 30,000 bhp Multi-Functional Support Vessel for Ezra Holdings.

EOC Limited (EOC) provides offshore transport, installation, construction & floating production services that support the entire life cycle of offshore oil & gas production. The company is an associated company of Singapore Exchange-listed Ezra Holdings Limited, the leading integrated offshore service provider with a broad range of offshore support vessels for charter to cater to the entire oil field life cycle.