Keppel to Build ENSCO Semisubmersible Rig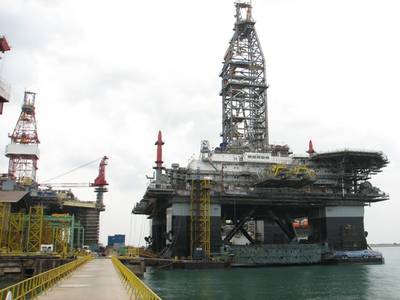 Keppel FELS Limited (Keppel FELS) has won a contract to build a $537m ultra-deepwater semisubmersible (semi) drilling rig from a subsidiary of ENSCO International Incorporated (ENSCO).
This contract follows shortly after of the award of the fifth semi, ENSCO 8504, that was announced on May 6, 2008.
This latest rig, ENSCO 8505, is the sixth consecutive semi of the ENSCO 8500 Series® that Keppel FELS is constructing, and is scheduled for delivery in the first half of 2012.

Keppel FELS has delivered nine new jackup rigs to ENSCO, and is constructing six semis based on ENSCO's proprietary design. The first semi of ENSCO 8500 Series is on track for delivery in the third quarter of this year, and has been contracted in to Anadarko and Eni.
The ENSCO 8505 is capable of drilling in up to 8,500 feet of water. Her features include a two million pound quad derrick, offline pipe handling capability, 35,000 ft drilling capacity, and station keeping capabilities meeting DP2 requirements. With these features, the 8500 Series rigs will be especially well-suited for deepwater development drilling.