Did You Know? The U.S.-Owned Ship Fleet is Valued at $47.2B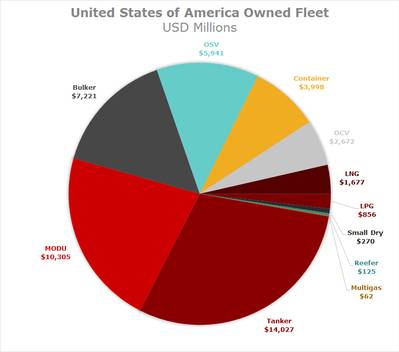 According to the most recent statistics from VesselsValue.com, published in the December 2018 edition of Maritime Reporter & Engineering News, the U.S.-owned fleet of ships totals 2,702 ships and $47.2 billion.
The majority (2,618 ships worth $42.6B) are active now, with 84 vessels worth $4.5B currently on order.
Tankers lead the value pack, with a cumulative 460 vessels woth $14B. But the Offshore Service Vessel (OSV) sector is cleary the leader in number of hulls, with 1,316 OSVs worth a cumulative $5.9B.