Konecranes Gets More W. African Orders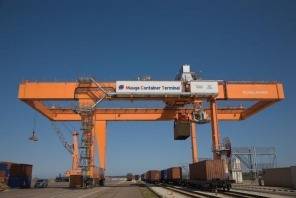 Konecranes is delivering new cranes ordered by Bollore Group for container terminals in Ghana and Benin

The manufacturer has received two orders for a total of nine gantry cranes from West Africa. The parties concerned have declined to reveal the value of the orders.

The cranes will have some advanced technologies such as auto steering feature which keeps the crane on a pre-programmed, straight driving path as well as fuel saving technologies. According to Konecranes, the new technologies used help improving safety of operation and increase productivity.

This contract is a result of a long term relationship. After the delivery to Tema and Cotonou, Konecranes will have a fleet of 67 Konecranes RTGs in operation in West Africa, says Antoine Bosquet, Konecranes' Sales Director, Port Cranes, region WEMEA.