Boxrunner, A New Straddle Carrier from Konecranes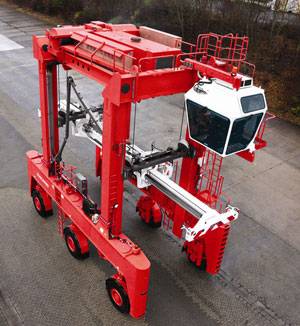 The new Boxrunner straddle carrier from Konecranes is the flexible link between ship-to-shore cranes and automated yard cranes. Konecranes Boxrunner straddle carrier offers container handling performance to two distinct container handling operations. The first is represented by large container terminal operators that are adopting automation technology for greater efficiency. The second is represented by a potentially diverse range of companies that do not have container handling as a core competence, and yet handle incoming and outgoing materials in containers – often using trucks and trailers or custom-engineered, stationary gantry cranes. Boxrunner can be a much more effective solution for their container handling needs.
The Boxrunner gives large container terminal operators a flexible and efficient means of moving containers from ship-to-shore (STS) cranes to the automated stacking cranes (ASCs). Boxrunner can deal with almost any requirement during this phase of the operation e.g. boosting STS unloading speed to maximum or handling containers of different ISO sizes. The Boxrunner is adapted to handle all ISO container sizes, stacking two-high at high speed.
Konecranes designs and manufactures Boxrunner's key components in-house. The new straddle carrier is built around a rigid structure that provides handling performance and direct steering. Powered by a diesel-electric (DE) drive and rope hoist system, the Boxrunner is offered as a 50 t twin twenty lift machine and as a 40 t single lift machine that can travel at 30 km/h with a 25 m/min hoist speed.
The Boxrunner uses Konecranes' rope and drum hoisting system, a proven technology from the company's
rubber tired
gantry cranes (RTGs) and rail mounted gantry cranes (RMGs). It also has an electronic-hydraulic system with four-cylinder steering for less tire wear, fewer spare parts, a greaseless gantry and very low maintenance. The driver's cabin is an ergonomic design providing excellent visibility.