Krishnapatnam Port Breaks Its Own Record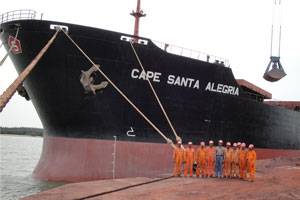 Krishnapatnam Port is already setting various operational benchmarks even though it is still in its developing phase. The port has achieved two milestones on 20th August '09 by achieving an All-India record load rate in 24 hrs and turning around a cape size vessel in a record time of 48 hrs.

Vessel MV. Cape Santa Alegria, owned by Salgaocars of Goa, berthed at the port on August 18 afternoon and once the loading commenced, in the first 24 hrs the port achieved a loading record of 50,380 MT of Iron Ore in the cape vessel using the conventional handling system of shore cranes, breaking its earlier loading record of 48,889 MT achieved on March 25 '09. On the subsequent day, the port broke its earlier day's record by loading 50,870 MT of Iron Ore in 24 hrs thereby setting a back to back All-India record for loading rate in 24 hrs A total cargo of 101,250 MT was loaded within 48 hours with an average load rate of 50,400 MT per day. MV Cape Santa Alegria, the cape-size vessel is 895.5 ft long with a beam of 141 ft and having a capacity of 125,000 MT.