KVH Introduces Smallest Fiber Optic Gyro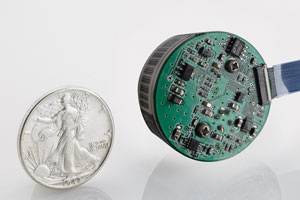 As compact stabilized optics and pointing systems gain in popularity on land vehicles, aircraft, and vessels, engineers have had difficulty finding ultra-compact gyros that offer the performance and long-term reliability required for smaller and lighter applications. KVH Industries' (Nasdaq: KVHI) new DSP-1500, a miniature, lightweight addition to its line of fiber optic gyros (FOGs), is designed to meet these requirements affordably.

With a single continuous length of optical fiber wound into a housing only 1.5 inches in diameter, the DSP-1500 offers an ultra-compact, lightweight package for flexible installations and demanding commercial stabilization and pointing applications.

"Our new DSP-1500 fiber optic gyro delivers exceptional reliability and precision along with a compact design that is truly a departure from other FOGs on the market," explains Jay Napoli, KVH's vice president of FOG/OEM sales. "The DSP-1500's optical sensor is tethered to the power and processing electronics, offering engineers and systems integrators tremendous flexibility during installation. The DSP-1500 is also more affordable than many other FOG solutions while still providing highly accurate stabilization and pointing. As a result, we are able to offer a precision FOG suitable for applications previously unable to use FOGs due to size and weight restrictions, such as night vision and thermal imaging systems, aircraft-mounted gimbaled cameras for law enforcement and homeland security, and shipboard optical systems."

The DSP-1500 is an attractive alternative to other gyro-based stabilization solutions because its optical sensor is only 1.5" in diameter and 0.8" tall, and weighs just 0.09 lbs. Due to the tethered design, the sensor itself can be installed separately from the power and processing circuit boards. With a scale factor of 0.1%, and bias stability of <5°/h, it offers extremely low noise and high bandwidth for operation in a wide range of environmental conditions.