Lack of Spotter Led to Crane Toppling Off Barge -NTSB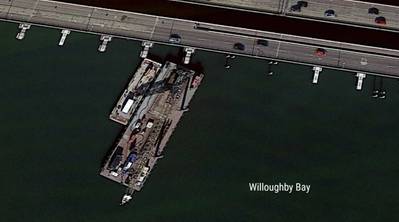 An incident involving a crane toppling off a barge in Virginia could have been avoided if a spotter was present to notice the crane being driven too far aft, and the cable system securing the crane to the barge failed, according to a recent report from the National Transportation Safety Board (NTSB).
While working on the Hampton Roads Bridge-Tunnel expansion project near Norfolk on February 8, 2022, an onboard crawler crane fell off the construction barge Carolyn Skaves and into Willoughby Bay. The crane was later recovered and declared an insurance loss of nearly $2 million. There were no injuries, but an oil sheen was visible on the water.
The 320-ton crane was secured to the barge using a centerline cable system that allowed the crane to move back and forth. The system, required by the U.S. Occupational Safety and Health Administration (OSHA), was intended to prevent the crane from moving laterally or rolling off the barge.
NTSB investigators found that as the crane moved toward the stern preparing for a lift, the centerline cable's aft eye had opened and became disconnected from the aft deck bracket. This caused the cable system to fail, allowing the crane to travel too far aft. The investigation found that a stronger centerline cable system, one in line with OSHA regulations, would have prevented the crane from being driven off the barge.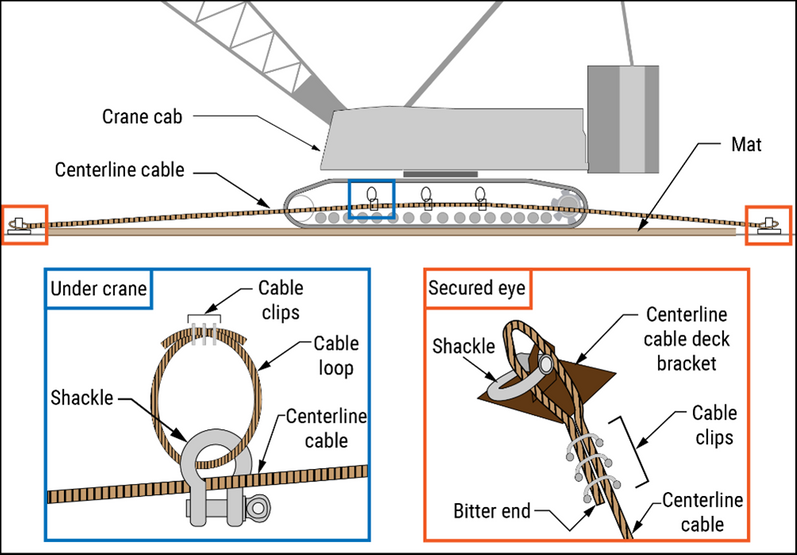 Depiction of centerline cable system, including cable loops securing the centerline cable to the underside of the crane and the two eyes, each secured to the barge's deck bracket with a shackle and cable clips (not to scale). (Source: NTSB)
The company's policy required a spotter to be used "any time the crane is traveling" but there was no spotter present when the crane toppled off the barge. The NTSB found that the company did not know workers were not following its policy because they did not have processes in place to ensure workers were complying.
The NTSB determined the probable cause of the crane toppling was the lack of a spotter during the crane movement and the failure of the centerline cable system used to secure the crane to the bridge. Contributing was ineffective company oversight of barge operations.
"All repositioning of a crawler crane on a construction barge—no matter how routine—should be adequately planned and risk-assessed," the report said. "All personnel involved in movement operations should be clearly identified and their duties understood, including spotting. A method such as a cable system or other physical attachment to prevent the crane from falling off the barge must also be in place before moving the crawler crane as required by OSHA regulations."