Pink Lashings Raise Money for Breast Cancer Research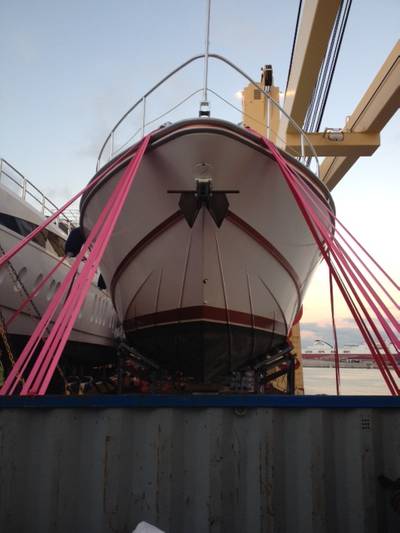 As the first Peters & May Pink Lashings shipment leaves Palma for Fort Lauderdale, the global marine transport company is calling all yacht owners to support its campaign to help raise £25,000 for the charity, Breast Cancer Clinical Trials (BCCT).

The initiative, launched this October in Breast Cancer Awareness Month, gives yacht owners using Peters & May the option to have specially manufactured pink lashing straps in support of the charity when their vessel is secured for transportation. A donation of just £5 for each lashing strap by the owner will be matched by the company to give a total donation of £10 to the charity for each strap used. Whilst the number of straps required for each shipment is calculated by its weight and length, the average 80ft yacht would use 50 lashings and therefore raise a phenomenal £500 for the charity for just one shipment.

The first customer to support the Pink Lashings campaign is the owner of a 23-meter Leopard, who commented, "As soon as the team at Peters & May mentioned this initiative during the booking process, I immediately took the chance to be the first yacht secured with the distinctive pink lashings. I'm thrilled to be supporting such a brilliant cause, and hope that many other boat owners will follow in my footsteps."

The yacht arrived in the U.S. on October 20, courtesy of Peters & May, in time for the Fort Lauderdale International Boat Show.

Charity Breast Cancer Clinical Trials' aim is to raise awareness of the importance of clinical trials in the prevention, diagnoses and treatment of Breast Cancer, giving women the chance to take part in ground-breaking research using cutting edge technology. Nearly eight out of 10 women in the U.K. now survive breast cancer beyond 10 years; it is the charity's hope that its work will increase this number.

BCCT's Victoria Gerlis said, "We are delighted that Peters & May has chosen to support us with this initiative. The use of our charity's color for their striking lashing straps will help to raise awareness while the kind donations from both yacht owners and the company itself will enable us to make a real difference with our work."

Dave Holley, CEO of the Peters & May Group commented, "Breast Cancer Clinical Trials is a charity close to many people's hearts, especially mine, having lost my mother to this terrible disease. The work they do has already led to some great achievements and we are excited to have come up with this innovative idea to help further the cause. We are confident that our clients will appreciate this opportunity to donate to such a worthwhile cause."

This is not the first time that Peters & May has supported BCCT. The company raised £10,000 with a clay pigeon shoot earlier in the year and subsequently decided to select BCCT as its chosen charity.