Launch of 37m Cat Ferry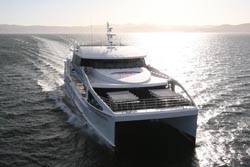 Incat Crowther launched the 37m Catamaran Passenger Ferry Kilimanjaro III. Built by Richardson Devine Marine (RDM), Kilimanjaro III is the third vessel from the designer builder partnership for Coastal Fast Ferries in Tanzania, Africa. Kilimanjaro III was developed following the success of Kilimanjaro I and Kilimanjaro II. Incat Crowther and RDM were approached by the operator to develop a larger, faster and more versatile vessel. The result is a 558 passengerv essel that is larger than any other vessel on the Zanzibar – Dar Es Salaam route, in addition to being capable of the more rugged offshore route to the Island of Pemba. Furthermore,Kilimanjaro III carriesmore passengers at less cost per-passenger to the operator, takingfurther advantage of the operation's revenue-making potential.
The main deck passenger deck features 249 economy class seats, with those nearest the aft kiosk equipped with tables. The aft end of the main deck has been reconfigured with a larger luggage room, located directly adjacent to the side crew ramps to speed up turn around. The upper deck has outdoor seats for 107 passengers. Amidships there is a first class cabin with 74 seats. The sundeck has seats for a further 60 passengers.
Kilimanjaro III features Incat Crowther's new generation hull form, which offers increased efficiency and improved seakeaping. She is powered by a pair of Cummins KTA50 engines, each producing 1340kW.
Loaded performance was recorded at over 31 knots, and will operate at 29 knots at 77% MCR.
SPECIFICATIONS - 37m CATAMARAN PASSENGER FERRY
Length, o.a. 125 ft. (38.1m)
Length, w.l. 122 ft. (37.3m)
Beam, o.a. 34.5 ft. (10.5m)
Draft (hull) 3.6 ft. (1.1m)
Draft (prop) 5.9 ft. (1.8m)
Depth 12 ft. (3.7m)
Fuel Oil 1585 gal.
Fresh Water 330 gal.
Sullage 330 gal.
Passengers 558
Speed (Service) 29 knots
Main Engines 2 x Cummins KTA50
Power 2 x 1340kW @ 1900rpm
Propulsion 2 x Propeller
Generators 2 x Cummins, 170kVA, 50 Hz
1 x Cummins, 17kVA, 50 Hz
Flag Australia Flag USL/NSCV 1C