CMA CGM Launches West African Service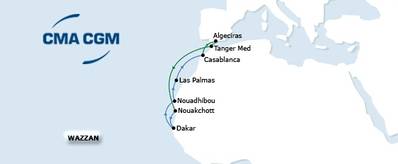 The CMA CGM Group announced the launch of a new service, WAZZAN, joining Morocoo to North West Africa, and improving the container shipper's Intra African coverage.
The CMA CGM Group said the new service improves transit time between Mauritania, Senegal and Morocco by eight days, with previous transshipment calls being replaced by direct ones. In addition, a new direct call, from North West Africa and to Morocco, in Las Palmas is introduced. WAZZAN also develops CMA CGM's reefer containers offer in Nouadhibou, Mauritania, allowing fish exports to intra African and worldwide markets.
The weekly service, complementary to the six EURAF ones serving West Africa and Europe, will deploy three 1,100 TEUs vessels on the following rotation: Casablanca, Algeciras, Tangiers, Nouakchott, Dakar, Nouadhibou, Las Palmas, Casablanca.
The first rotation will start from Casablanca, with the MV Delmas Swala, on June 6, 2015.