Austal Launches USNS Choctaw County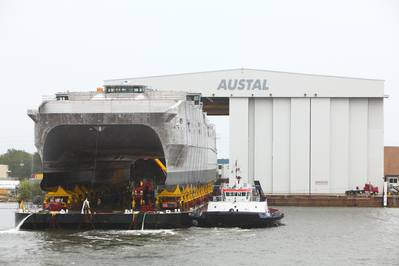 1 of 7 Navy Ships under construction at Austal USA.

On October 1, 2012, Austal USA successfully completed the launch process of the second Joint High Speed Vessel (JHSV), the recently christened USNS Choctaw County (JHSV 2). This 103-meter high-speed catamaran represents the U.S. Department of Defense's next generation multi-use platform. It is part of a 10-ship program potentially worth over US$1.6 billion.

Brian Leathers, Austal USA Interim President and Chief Financial Officer commented, "This is the ship's first voyage, one of many in its future. Austal designed this ship to serve as a rapid transit workhorse for our military to assist in humanitarian efforts and to transport troops and their equipment from port to port. It is due to the important role that it will play in intra-theatre deployment/transportation that the Austal JHSV team takes such pride in our part in facilitating the success of the JHSV program."

The launch of USNS Choctaw County was conducted in a multi-step process as follows:

1) On Sunday, September 30, Goldhofer self-propelled modular transporters (SPMTs) lifted the entire 1,600-metric-ton ship almost three feet in the air and moved the JHSV approximately 400 feet onto a moored deck barge adjacent to the assembly bay.
2) The deck barge with USNS Choctaw County onboard was towed a half mile down river to BAE Systems' Southeast Shipyard, Mobile.
3) The vessel was transferred to the Drydock Alabama, BAE's floating dry dock.
4) The floating dry dock was submerged and USNS Choctaw County entered the water for the first time.
5) USNS Choctaw County was taken from the drydock and towed back up river to Austal USA's facility, where it will undergo final outfitting and activation before sea trials and delivery to the Navy.

This process was initially used during the launch event for the Independence-variant Littoral Combat Ship Coronado (LCS 4) in January 2012. A major improvement in safety and efficiency, the new roll-out method has reduced the time of the transfer process, and serves as a capstone in Austal's effort to reduce cost and time required in future JHSV and LCS deliveries.

BAE Systems Southeast Shipyard's Director and General Manager, Vic Rhoades said, "The opportunity to team with the professional men and women of Austal to successfully launch USNS Choctaw County (JHSV2) is a positive step for both organizations. By working together we can take advantage of the synergies of both shipyards by providing the knowledge and experience from our individual areas of expertise that will grow our respective businesses and allow us to provide quality products at competitive prices to our customers."

Regarding the partnership between Austal and Berard Transportation, Braedon Berard COO commented "Berard's goal from the beginning has and always will be to assist the Austal team in safely and efficiently launching the JHSV, utilizing the most technologically advanced equipment and experienced personnel in the nation. We feel that helping Austal, and in return the United States Navy, is an honor that deserves our utmost effort and we look forward to future endeavors".

Austal is currently under contract with the U.S. Navy to build nine 103-meter JHSVs under a 10-ship, $1.6 billion contract and five 127-meter Independence-variant LCS class ships, four of which are a part of a 10-ship, $3.5 billion contract.

For the LCS and JHSV programs, Austal, as prime contractor, is teamed with General Dynamics Advanced Information Systems, a business unit of General Dynamics. As the ship systems integrator, General Dynamics is responsible for the design, integration and testing of the ship's electronic systems including the combat system, networks, and seaframe control. General Dynamics' proven open architecture approach allows for affordable and efficient capability growth as technologies develop.

These two contracts will require Austal to increase its Mobile, Alabama workforce to approximately 4,000 employees in order to fulfill the contract requirements. "With almost ten percent of these workers expected to reside in the neighboring states of Florida and Mississippi," said Leathers, "we are proud that Austal is an engine of regional growth for the Gulf."