Eastern Launches MPSV for Harvey Gulf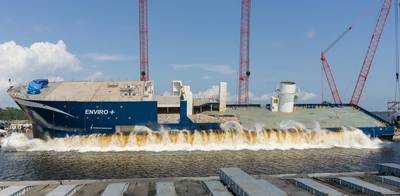 Eastern Shipbuilding Group, Inc. has launched M/V Harvey Blue-Sea (Hull 250) on April 29, 2016 for Harvey Gulf International Marine, Inc. of New Orleans, La. The Harvey Blue-Sea is the second of two 340' Class Multi-Purpose Service Vessels (MPSV), designed by VARD Marine.
The launching event was held at Eastern's Allanton facility with hundreds of Eastern employees, several representatives from Harvey Gulf and guests in attendance. Father Roy Marien of Saint John's
Catholic Church
of Panama City, Florida, performed the blessing of the vessel.
Joey D'Isernia, Eastern's President, opened the ceremony by welcoming guests and sharing the long successful history between Eastern and Harvey Gulf. He talked of the capabilities of the Harvey Blue-Sea, and once delivered, will be one of the most sophisticated US Flag MPSVs in service in the world. The Harvey Blue-Sea will feature a 250MT AHC Knuckle Boom Offshore Crane with lift capabilities in up to 4,000M of water, a helideck and accommodations up to 150 crew and offshore workers.
Harvey Gulf's Owner Representative, Captain Pat Hughes, shared a few words about the history between Eastern and Harvey Gulf, the quality of craftsmanship and praising the leadership at Harvey Gulf and Eastern. Eastern's Julie Mathis christened the vessel. In attendance was Captain Pat Hughes, Harvey Gulf's Operation Manager.
The Harvey Blue-Sea is the second of two MPSVs under construction at Eastern, from a design provided by VARD Marine. The Harvey Blue-Sea is expected to deliver in early 2017, after outfitting and sea trials are completed. The lead vessel, the Harvey Sub-Sea, is also currently under construction. Eastern has delivered 11 vessels previously to Harvey Gulf, including Offshore Supply Vessels, Light Construction Vessels and Ocean Service Tugs. Eastern is also actively building a Multi-Purpose Field Support Vessel (MPFSV) Hull 243 for Harvey Gulf, the Harvey Stone.
Harvey Blue-Sea
HGIM Designation: 340' Class MPSV
ESG Hull #: H250 – 2nd Vessel in the Series of 2
Design: VARD Marine
Vessel Type: Multi-Purpose Service Vessel (MPSV)
Contract Date: October 15, 2013
Launch Date: April 29, 2016
Delivery Date: 1st Quarter 2017
Vessel Dimensions: (LOA) 340'x 73'x 29'-3"
Regulatory: ABS +A1, HELIDK, Offshore Support Vessel (Heavy Lift), Circle E, +AMS, +ACCU, +DPS-2, NBLES, ENVIRO+, GP, UWILD, MLC 2006, SPS (Special Purpose Ship) 2008, CRC Capable.
Certifications: USCG, Subchapter I, Subchapter L, SOLAS/IMO
Power Generation: Wartsila: DE 690VAC
Generators: Wartsila: 6L32 US EPA Tier 2, IMO II, 4 x 3,170kW (12,680kW)
Propulsion: Schottel: SRP 3030 FPP (VFD) Z-Drives, 2 x 4,489HP (8,978HP)
Tunnel Bow Thrusters: Schottel: STT 5 FPP (VFD), 3 x 2010HP (6,030HP-DP)
Offshore Crane: One National Oil Well Varco, Hydralift 250MT SUBSEA Knuckle Boom Offshore Crane/w Active Heave Compensation, 4,000M Water Depth
Deck/Stores Crane: One North Pacific Telescoping Crane Model MCT-327 3,200 LB at 16' (1.5 MT at 3m)
Helideck: One Helidex: Aluminum Offshore Helideck 22.2m diameter sized for a Sikorsky S-92 helicopter with reception area seating for 24 persons.
Moon Pool: One Mid-ship CL. 24' x 24' Moon Pool w/Main Deck Closure
ROV/LARS: The vessel's electrical system is arranged to power two 250HP ROV/LARS Systems, 4,000M Water Depth Operations.
Stabilizing System: HOPPE Marine, Roll Dampening
Stabilizing Tanks: Two Active
Anti-Healing System: HOPPE Marine, 4,400 GPM
Anti-Heeling Tanks: Four Passive
Accommodations: Berthing: 150 Crew and Industrial Offshore Workers
The 340' Class MPSV feature's the following capacities:
Deadweight Tonnage: 5,737 LT
Total Fuel Oil (w/day-tanks): 288,927 gals.
Fuel Oil Day-tanks: 36,620 gals. (2 tanks)
Drill/Freshwater/Ballast: 915,539 gals.
Emergency Genset F.O. Day-tank: 2,111 gals.
Ships Potable Water: 121,997 gals.
Maximum Speed: 13 Knots.
Cruising Speed Endurance: 40 Days at 12 Knots
Clear Deck Cargo Area: 8,100 sqft.
Deck Loading: 2,048 lbs/sqft.