Trinity Launches Deck Barge Jean-M 2501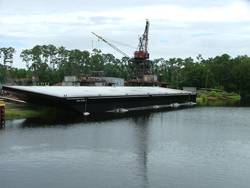 Designed by Bristol Harbor Group, Inc., (BHGI), , , under contract by Argosy Transportation Group, Inc., , the Jean-M 2501, a very built inland deck barge, was launched this week and is set to enter service next week. The 250 x 54 x 12-ft. barge is designed to transport large, over-dimensional cargo on the inland waterways.
A 3/4" thick deck and substantial longitudinal stiffeners will allow her to not only carry a 3,000 lbs / sq. ft. deck load, but to do so anywhere along her length. The barge has a very stiff hull girder, which allows her to carry the heavy project cargo that Argosy is known for. Additionally, the barge features a heavily built box stern, specifically designed for large and heavy roll-on, roll-off operations. Further, her internal
scantlings were designed specifically for water ballasted operations, another hallmark of her roll-on, rolloff mission. Lastly, every effort was made to make the barge friendly to the riggers that will load these large cargoes on her. For instance, in addition to D-rings that are being welded on the deck above a longitudinal stiffener (i.e. backed up), the manholes down the center of the barge were designed to be perfectly flush with the main deck so as not to provide the riggers with any obstructions.
Regarding Bristol Harbor Group, Inc. (BHGI): BHGI has been in business for fifteen years. The principals formed their company in 1993 to design a passenger vessel while still students in the Naval Architecture and Marine Engineering Department at the . This entrepreneurial spirit continued with the incorporation of Bristol Harbor Group, Inc. (formerly FG Marine Design, Inc.) in 1995. The company has grown every year and has completed designs and provided construction support for passenger vessels, tugs, barges, fishing boats and yachts; along with numerous consulting contracts.
In 2009, BHGI launched a field support office in . Bristol Harbor Group South, Inc. (BHGS), and specifically Russell Bostock of BHGS, served as our surveyor for the Jean-M 2501. He ensured that the barge was built to the plans, and provided construction oversight for the customer. Russell is intimately familiar with the vessel, and was present at the launching, representing BHGS and BHGI.