Yacht Race Leaders: Cape of Good Hope by New Year?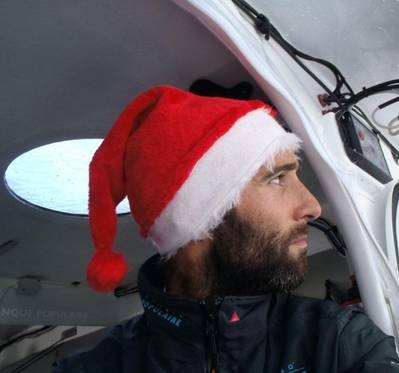 Vendee Globe leaders Armel Le Cléac'h and his long time running partner François Gabart passed into the Pacific Ocean 9 days ago.

As was widely predicted, the twosome have finally been slowed through today. It has been the two skippers which are chasing hard behind, Jean-Pierre Dick and Alex Thomson, who have finally been granted the chance to shine.
Dick and Thomson are riding up on a fast moving low pressure system which will ultimately reach and rescue the two leaders from their light winds low pressure trough.Dick has had Virbac-Paprec 3 at 18 to 19 knots for much of Thursday whilst speedster Thomson has been quickest in the fleet averaging over 18 knots over the previous 24 hours. Both have recovered more than 100 miles on the leaders today so far, and their gains are expected to accumulate progressively over the next 24 hours.
Whilst the two leaders are scarcely voicing concerns, the threat from both chasing skippers may not be immediate, but it certainly gives hope to Frenchman Dick and the Briton who, like Gabart ahead, has yet to round Cape Horn solo. The top two are still expected at the Cape on January 1st.
Latest race standings
1- Armel Le Cléac'h, FRA (Banque Populaire) at +8929 miles to finish
2 - François Gabart, FRA, (Macif) at + 29.4 miles to leader
3- Jean-Pierre Dick, FRA, (Virbac Paprec 3) at + 538miles to leader
4- Alex Thomson, GBR, (Hugo Boss) at + 903 miles to leader
5- Jean Le Cam, FRA, (SynerCiel) at + 1915miles to leader