'Leisure' Tugboat Sinks on Lake Union Berth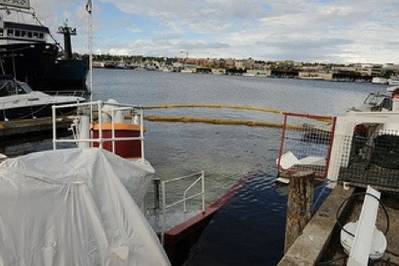 The 72-foot tug 'Iver' lies in approximately 16 feet of water after sinking at the pier at Mariner Properties on Lake Union near Seattle. Coast Guard Sector Puget Sound received notification from the vessel's caretaker at 7:30 a.m., reporting that the Iver had sunk and that there was a fuel sheen in the water.
The Iver is no longer used as a commercial tug and has been converted for private use. The owner told the Coast Guard that the tug is capable of holding up to 1,700 gallons of fuel, however, the exact amount on board is unknown at this time.

Coast Guard response crews from Sector Puget Sound are on scene and coordinating response efforts with the Washington Department of Ecology and the owner of the vessel.

The owner is contracting for cleanup efforts and salvage of the tug.