LGL Announces Retirement of Robert G. Wellner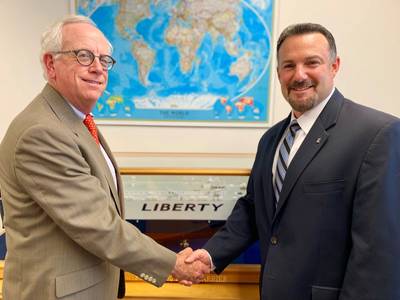 Liberty Global Logistics LLC (LGL) announced today that Robert G. (Bob) Wellner, its current President, will retire effective December 31, 2019. Mr. Wellner is a widely respected industry veteran with more than 46 years of experience in the U.S.-flag shipping and logistics industry and was a key player in the formation and growth of LGL.

Mr. Wellner joined forces with Philip J. Shapiro in 2003 which led to the formation of LGL. LGL commenced operations in 2004. Mr. Shapiro had previously formed Liberty Maritime Corporation in 1988, a ship management company which continues to provide technical ship management services to LGL.
Since 2004, LGL has grown to become a leading world-wide logistics provider for a variety of international automotive, high & heavy, break bulk and cargo shippers including original equipment manufacturers and a lead contractor to the U.S. Government. LGL has also grown into a multi-modal point-to-point logistics company offering a portfolio of services covering air, land and sea operations world-wide.
Mr. Shapiro stated, "Bob will be sorely missed. He was instrumental in the building of LGL into a world-wide logistics company and has worked tirelessly to make it a successful business. Bob deserves accolades for his role as an industry leader and advocate for the U.S. merchant marine."
Mr. Wellner remarked, "I am thankful for the opportunity to have built and led LGL since 2004. I am confident that LGL will be in good hands going forward with the help of a great team and many seasoned, experienced and professional managers."
Effective January 1, 2020, David R. Minetti will take over as LGL's President. Mr. Minetti has more than 28 years of experience in international shipping and logistics. He has been with LGL since 2015 and is currently its Executive Vice President - Commercial Operations. Mr. Wellner will continue as a strategic advisor and consultant to LGL.
Mr. Wellner added, "Dave is perfectly poised to take over as LGL's President. I am confident that his experience and skill sets will continue to move the company forward and will lead to continued business success."