Liberian Registry, MOL Provide Supplies to Ebola-hit Liberia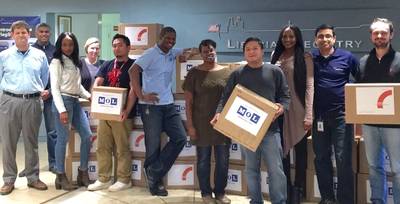 The Liberian Registry has used a $10,000 donation from Mitsui OSK Lines (MOL) to procure medical supplies to help combat the spread of Ebola in Liberia.

The supplies, comprising essential materials and medical equipment such as PPE (Personal Protective Equipment) suits, gloves, goggles and respirators, arrived in the Liberian capital, Monrovia, on November 5. They were shipped by air from the United States by TNT, which covered all shipment costs.

Scott Bergeron, CEO of the Liberian International Ship & Corporate Registry, the US-based organization which manages the Liberian Registry, said, "We are extremely grateful to our client, MOL, one of the most powerful shipping companies in the world, for donating resources to the critical situation in Liberia. We are indebted, also, to TNT, for its generosity in covering all shipment expenses. For our part, we will ensure that all the materials are physically received and transferred to hospitals as directed by Liberia's Minister of Health."

The YCF Group, the parent organization of the Liberian International Ship & Corporate Registry (LISCR, LLC), has been active in the fight against Ebola, providing assistance to government, nonprofit and community groups. Its ongoing help has included technical and equipment contributions towards setting up a national Ebola call center in Liberia, and providing senior executives to manage a national Ebola task force. The YCF Group has also donated building materials to the C H Rennie Hospital in Kakata for improving its infrastructure and ability to quarantine Ebola patients more effectively.

Other initiatives undertaken by YCF include help in setting up community hand-washing stations, liaison with health authorities to publish Ebola awareness messages, the creation of a special radio bulletin designed to raise awareness about safeguards to protect health, and the launch of a Good Morning Liberia marketing campaign, which provides free credit every morning to enable subscribers to check on friends and family.