Libya Oil Output Slashed by Port Attacks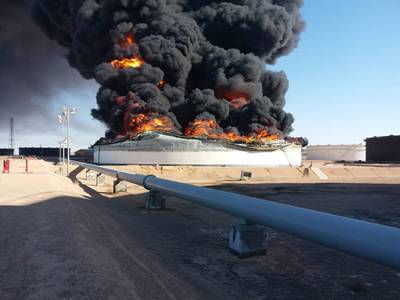 Libya has lost some 400,000 barrels per day (bpd) of oil production in recent days because of militant attacks at the Ras Lanuf and Es Sider ports, the head of the National Oil Corporation, Mustafa Sanalla, said on Tuesday.
Sanalla said there were still militants present in the area of the terminals, which were closed on Thursday following an early morning attack by opponents of eastern-based Libyan commander Khalifa Haftar.
"We look to fight the fire first of all, stabilise the situation," Sanalla told reporters in Vienna ahead of a meeting of OPEC and non-OPEC producers on June 22-23.
"Our staff are working very hard in very difficult conditions. The criminals did not give our staff the permission to fight the fires properly until now."
One crude oil storage tank in Ras Lanuf was hit and ignited on the first day of fighting, and a second tank caught fire on Sunday.
The NOC says the fires have caused "catastrophic damage", slashing storage capacity at Ras Lanuf by some 400,000 barrels.
More than half the tanks at Ras Lanuf and Es Sider had been damaged or destroyed in previous rounds of fighting.
Before the latest output drop, OPEC member Libya had been producing just over 1 million bpd of oil.
Libya was exempted from more than a year and a half of coordinated output cuts by OPEC and non-OPEC producers as its oil production partially recovered from years of disruption caused by blockades, conflict and political disputes.
(Reporting by Ahmad Ghaddar, Writing by Aidan Lewis; Editing by Dale Hudson)