Liebherr Supply 1000th Mobile Harbour Crane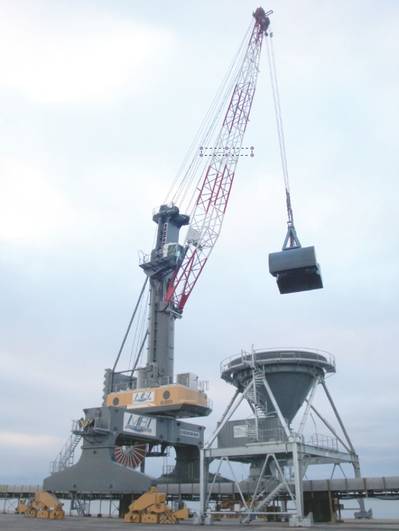 The 1000th Liebherr Mobile Harbour Crane has been delivered and erected at Montoir Bulk Terminal (MBT) France.

The new LPS 550 is going to play a major role in MBT's cargo handling chain in order to optimize bulk transport. Their new crane, type LPS 550, has a maximum lifting capacity of 75 tonnes in grab operation. It is the first LPS 550 worldwide. The crane was manufactured and pretested in Rostock before its delivery to the west coast of France.

The structure of this type is based on the construction of the LHM 550, which is Liebherr's most in demand mobile harbour crane model. An obvious modification is that the undercarriage is replaced by a portal solution which is installed on rails. The tailor-made portal solution allows for usage of the area underneath the slewing cabin, a very useful feature especially on narrow quays. In addition to the LPS 550 a conveyor belt and a hopper are used to guarantee smooth transport of bulk cargo throughout the terminal. Thanks to this space saving portal solution it was possible to install the crane directly above the conveyor.
The new LPS 550 is equipped with the unique Pactronic® hybrid drive system. This innovative system boosts performance and reduces emissions at the same time, each by 30%.

Founded in 2011, Montoir Bulk Terminal represents the first French terminal for bulk food and peat. It is a joint venture between SEA-invest and IDEA Groupe. SEA-invest is one of the world's largest terminal operators for dry bulk, fruit and liquid bulk and operates 25 ports spread across three continents. The IDEA Groupe, formerly known as MTTM, is a French transport and logistics company which also specialises in bulk supply chains.