Xervo Gets Lifeboat 'In a Box' Jack-up Rig Orders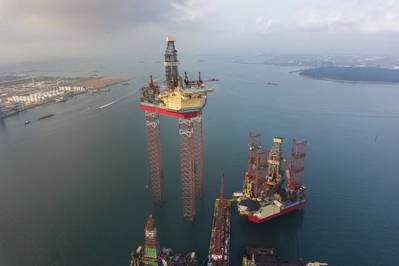 The Danish davit manufacturer Xervo says it is to provide its lifeboats, 'Boat-In-A-Box', to several Maersk Drilling projects. It will deliver lifeboat and rescue boat systems to the new fourth rig in the XLE series, as well as lifeboats to a retrofit project on the 'Maersk Innovator'.

Maersk Drilling has chosen to equip its soon-to-be completed XL Enhanced 4 rig with seven Boat-In-A-Box lifeboat and rescue boat systems, which were developed in line with NORSOK R-002 standards.

The XLE rig is the world's largest jack-up rig, and at the moment Maersk Drilling is building the fourth in the series at Daewoo Shipbuilding (DSME) in South Korea. The rig, with legs that are more than 200m long, will be able to operate in water depths of up to 150m. The 180 people housed on the rig will be able to work at previously unseen heights, which will create even greater demands on the lifeboat systems' construction.
 


Xervo says it has also delivered lifeboat systems to the other XLE projects. The first rig in the series has just been delivered.

"Over the years, we've put a lot of emphasis on improving safety on our rigs, and Xervos lifeboats are in a class by themselves. We are proud to put Maersk Drilling on the map as one of the pioneers within safety by building our rigs after NORSOK standards even before the rules go into effect," says Frederik Smidth, CTO at Maersk Drilling.
 

"It's been an exciting assignment to work on. Via a comprehensive development co-operation with Maersk Drilling, KeppelFELS and DNV, we've set new standards for safety levels and reliability on this project, says Esben Juul Sørensen, CEO at Xervo.
www.xervo.dk