Lightfoot Joins ASRY's Project Jupiter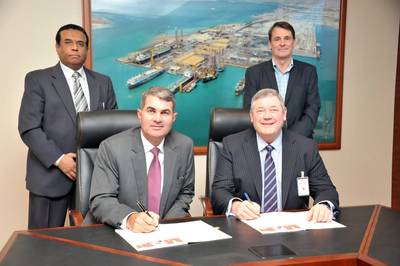 UK-based refrigeration experts sign agreement to be preferred onsite specialist for Military Refrigeration and HVAC systems at ASRY
ASRY, the ship and rig repair yard in the Arabian Gulf, has signed a specialized Services Agreement with Lightfoot Defence, a U.K.-based refrigeration and HVAC contractor, to become one of the yards onsite specialist contractors. Lightfoot will provide upgrade, modification and
repair services
to standard and non-magnetic air-conditioning plants and associated equipment of naval vessels calling at the yard.
During a ceremony held at ASRY's headquarters, the service agreement was signed under the umbrella of the ongoing Project Jupiter – an initiative to make ASRY the leading hub of onsite specialist contractors in the Arabian Gulf. The agreement provides a permanent presence for Lightfoot in ASRY, and also confirms that Lightfoot will construct a new service workshop inside ASRY, with a timeline to be confirmed within three months.
ASRY Chief Executive, Nils Kristian Berge, commented, "Adding Lightfoot Defence to our portfolio of premium onsite specialist contractors is another boost for the yard's regional and global competitiveness, especially within the Naval vessel repair market. ASRY can now provide the most comprehensive range of repair and
maintenance services
to our customers. Our goal of being the region's one-stop shop for maritime maintenance is drawing closer; thanks to partnerships with reputable firms such as Lightfoot."
Lightfoot Defence Managing Director Terry Nicholls added that this agreement is an important element for the U.K. firms global expansion plan, and committed to promote ASRY as a qualified and preferred ship repair destination to their client roster, gathered over 130 years of operation.
The agreement covers the provision of military engineers familiar with U.K.'s Ministry of Defence (MOD) standards, technical advice, equipment and spares, transportation solutions, liaison routing to the U.K. MOD, and more.