MAN B&W Gas New Liquid ME-GI Engine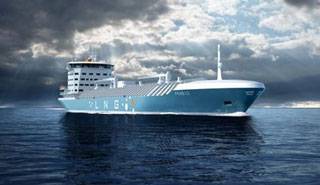 MAN Diesel & Turbo introduced its Liquid ME-GI (Liquid Gas Injection) engine. The Liquid ME-GI is powered by LPG (Liquid Petroleum Gas), a smaller market than LNG but of significance in certain segments such as the small tankers that ply river traffic and coastal shipping routes.

The Liquid ME-GI is a variant of MAN Diesel & Turbo's ME-GI engine, whose control and safety system is based on the experience gathered since the mid-1990s at working gas plants, including a 12K80MC-GI-S in Japan, and the development of a VOC (Volatile Organic Compound) engine in the late 1990s. The announcement follows closely on the company's announcement last autumn that a full-scale type test for its ME-GI concept would take place at its test centre in Copenhagen in 2011.

All MAN Diesel & Turbo electronically controlled ME engine types are available in dual-fuel versions with the LPG-fuelled version designated ME-LGI. The Liquid ME-GI engine's performance is equivalent in terms of output, efficiency and rpm to MAN Diesel & Turbo's successful ME-C and ME-B series of engines. As the Liquid ME-GI engine's fuel system has few moving parts, it is also more tolerant of different fuel types and accordingly can run on DME (DiMethyl Ether).

DME can act as a clean fuel when burned in suitably optimised engines. For example, in Sweden – one of the largest paper manufacturers in the world – it is estimated that DME produced from black liquor (a by-product of the pulp-making process) alone could replace 25% of all petrol and diesel consumption. Accordingly, DME displays significant potential as it has the same environmental benefits as LPG, is fully mixable with LPG, and can be produced from biomass.

According to MAN Diesel, LPG-fuelled engines generally experience safe and reliable running with comparatively low maintenance costs while gas valves and gas pipes are smaller but similar to those of the well-known ME-GI engine. The Liquid ME-GI engine uses liquid gas for injection all the way from tank to engine and non-cryogenic pumps can be used to generate the required pressure, comprising standard, proven equipment readily available from a large number of suppliers within the LPG industry.

Furthermore, modern, two-stroke diesel engines are superior in fuel efficiency, especially with regard to total operating economy. By introducing LPG as fuel to the dual-fuel GI system, substantial emission benefits can be obtained, especially with regard to SOx and CO2 emissions and particulate matter. NOx emission reductions and Tier-III targets can also be achieved if LPG operation is combined with either an SCR or EGR system. Furthermore, LPG sulphur levels are naturally minimal.

Ole Grøne, Senior Vice President Low-Speed Promotions and Sales, MAN Diesel & Turbo said: "There is already great interest in the Liquid ME-GI engine as operators look to control costs and emissions. We already have several interesting projects underway, not least with a general-cargo carrier newbuilding where we have signed a letter of intent with the shipowner."

The carrier will be designed in Gothenburg by FKAB, Sweden's largest marine-consulting firm specializing in ship design and construction.

"Operation on LPG seems also to solve the logistics problems that LNG has at this time since LPG, in principle, is accessible over almost all the planet. Furthermore, cryogenic technology is not required, which makes LPG auxiliary systems less expensive compared with LNG," said Grøne.

He concluded: "This further expansion of our gas-engine series stems from the many possibilities we see within the LPG sector for the Liquid ME-GI's increased flexibility and greater control and, generally, within marine transportation. The addition of the Liquid ME-GI engine to our existing portfolio means that MAN Diesel & Turbo now offers the two-stroke market's most comprehensive array of prime-mover solutions all the way up to 98-bore. I expect the development of the Liquid ME-GI engine to have a sizable impact on the market in the near future."

LPG has successfully been used as a fuel in the car industry for many years. The global interest in lowering CO2, NOx, SOx and particulate emissions has also increased operators' and ship owners' interest in investigating fuel alternatives and LPG emissions are significantly lower compared with MDO. Consequently, there are very good environmental reasons for using LPG in coastal areas and on inland waterways, while the Liquid ME-GI system can also be retrofitted to small-bore MAN B&W ME-B engines to suit smaller tankers, carriers, container vessels and RoRo ships.

The coming years are likely to see an increase in LNG production. This will cultivate the interest in using LNG and LPG as a fuel on ships in general since gas is expected to be cheaper than other types of fuels for a significant period of time, a price difference that will be even greater in comparison with other types of low-sulphur fuel.

This increased volume of LNG will generate additional LPG as LPG is a by-product of LNG production – consequently, as an additional benefit, LPG production is not driven by demand. This is expected to lower the existing LPG price level and make it more competitive with MDO and MGO.

While LNG is considered the fuel of the future, establishing bunkering facilities, terminals and a network of supply ships is costly, time-consuming and subject to safety concerns. Only a few countries currently have an LNG network in place for general use as a marine fuel, for example Norway, and realistically, the widespread use of LNG for ship operation is some time away.

In contrast, LPG is already a well-established fuel that enjoys a mature, global supply network with less-costly terminals and comparatively minor safety issues.

As such, older LPG carriers could function as bunkering stations as all have onboard reliquefaction plants installed, which are less demanding and less expensive to run than such LNG systems. Furthermore, ship to ship loading of LPG is not considered complicated. Some MAN Diesel & Turbo gensets are already running on LPG as the fuel on LPG carriers.

LPG is a flammable mixture of hydrocarbon gases and a low-carbon, low-polluting fossil fuel. Synthesised by refining petroleum or natural gas, it is usually manufactured during the refining of crude oil or extracted from oil or gas streams as they emerge from the ground.

As of early 2008, world reserves of natural gas — from which most LPG is derived — stood at around 190,000 trillion cubic metres. Added to the LPG derived from cracking crude oil, this amounts to a major energy source that is virtually untapped and has massive potential.