120 LNG Newbuilds Currently Under Construction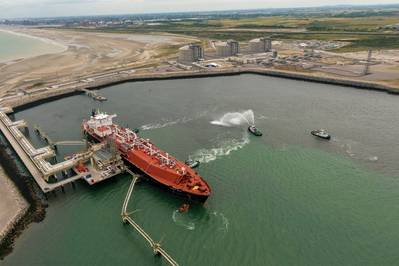 Dunkerque LNG SAS, which constructs and operates liquefied natural gas (LNG) terminals, provided an overview of their port infrastructure to meet up to 13 BCM (billion cubic metres) of LNG import demand into France and Belgium as well as providing full LNG ship bunkering operations.

Whilst most of the world's 118 LNG-powered vessels currently operate in the Baltic Sea, Dunkerque LNG's director of business development Cécile Grégoire-David predicted that the majority of the world's 128 LNG fuel-enabled newbuilds currently on order would call at European destinations.

This could translate into a future potential of up to 50 LNG bunker operations per year at the port of Dunkirk by 2025.

She also highlighted the EU-funded "Green Loop" program in which Dunkerque LNG aims to participate with TOTAL in LNG bunkering operations together with vessel owner MOL to serve the fleet of newbuild CMA-CGM dual-fuel Ultra-Large Container Vessels currently under construction for delivery between 2018 and 2020.

The total investment programme is targeted at EUR1Bn, and at the end of September the EU awarded the Green Loop project EUR11.96M in European subsidies, 20% of the costs of the realised works, Ms Grégoire-David said.