Korean Yard Wins LNG-FPSO Order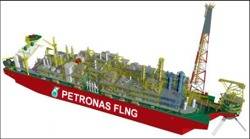 Korea's DSME Okpo shipyard wins its first order for a Malaysian LNG – FPSO facility
DSME says it has won its first order for an LNG-FPSO from Pretroliam Nasional Berhad, Malaysia`s state-operated oil company. The design of this project is a joint effort between DSME and Technip, a France based offshore plant design company.
The LNG-FPSO will be 300m long, 60m wide, and have the capacity to store up to a maximum 180,000㎥ LNG with an annual handling capacity of 1.2 million tons.
It will be constructed in the Okpo shipyard and delivered in June of 2015. It will provide service to the Kanowit field which is located off the northwest coast of Sarawak state in Malaysia.
Senior Executive Vice President and Chief Business Officer of DSME, Mr. Wan Soo Ryu said, "New natural gas field exploitation is increasing around the world, so we expect additional LNG-FPSO new orders."