First Order for LNG-fuelled MAN Two-Stroke Engine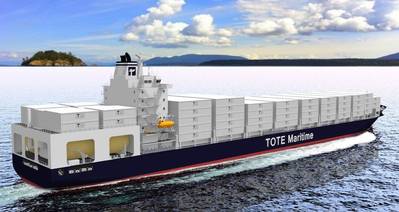 MAN Diesel & Turbo confirms its first order, from USA's TOTE Inc., for its low-speed, dual-fuel ME-GI engine.

American shipping company, TOTE, has signed a contract with its compatriot shipyard NASSCO in San Diego for the construction of two new state-of-the-art containerships with an option for three more vessels for primarily domestic services. The vessels will each be powered by 8L70ME-GI dual-fuel gas-powered engines.


The two 3,100 TEU vessels will be the most environmentally friendly containerships in the world, powered primarily by liquefied natural gas (LNG). The first two ships will be operating between Florida and Puerto Rico.

The ships will be built by NASSCO shipyard in San Diego and designed by Korean DSEC, which is part of Daewoo Shipbuilding & Marine Engineering (DSME). Construction for the first containership is scheduled to begin in the first quarter of 2014, with delivery to occur by the fourth quarter of 2015; the second ship will be delivered in the first quarter of 2016.



Unveiled at MAN Diesel & Turbo's Copenhagen Diesel Research Centre in May 2011, the ME-GI engine represents the culmination of many years' work that began in the 1990s with the company's prototype MC-GI dual-fuel engine that entered service at a power plant in Chiba, near Tokyo, Japan in 1994.

 Depending on relative price and availability, as well as environmental considerations, the ME-GI engine gives shipowners and operators the option of using either HFO or gas – predominantly natural gas but also, eventually, LPG.

MAN Diesel & Turbo sees significant opportunities arising for gas-fuelled tonnage as fuel prices rise and modern exhaust-emission limits tighten. Indeed, previous research indicates that the ME-GI engine delivers significant reductions in CO2, NOx and SOx emissions. Neither has the ME-GI engine any methane slip.