Latvia Navy Accepts Locally-built Patrol Boat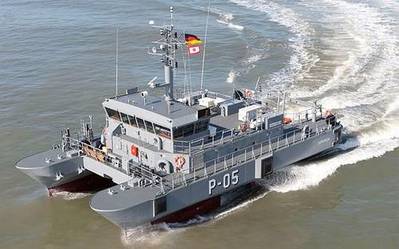 Patrol boat 'Viesite', built in the country's Riga Shipyard, has been accepted by Latvia's Ministry of Defence.

The building of patrol ship Viesīte was started June 17th, 2009 and it is third of five new SWATH type patrol ships built for the Latvian Navy, this vessel having been completely built in JSC "Rīgas kuģu būvētava".
Other patrol boats in the newbuilding project were in attendance including Skrunda and Cēsis, as well as headquarters and procurement ship Varonis.

These twin-hull patrol ships can be used for military purposes as well as for civilian ones. Patrol boats Skrunda and Cesis are already being used for patrols and search and rescue operations in the Baltic.

The formal acceptance ceremony took place at Riga's passenger port, attended by Minister of Defense Artis Pabriks, the National Armed Forces Commande Raimonds Graube, Navy fleet commander Navy Captain Rimants Štrimaitis, and other officials.

The remaining patrol boats to be constructed are for delivery by 2014.