Long Beach Terminals Remain Open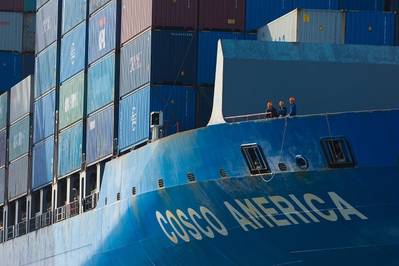 Marine terminals at at the United States' second-busiest seaport have remained open and operating amid the unfolding coronavirus crisis, with regular vessel calls and scheduled work shifts continuing, the Port of Long Beach said.
The port said its marine terminals are receiving vessel calls and workers are transferring cargo off and on ships under the health-protective directives established by the U.S. Coast Guard and Customs and Border Protection, with guidance from the U.S. Centers for Disease Control and Prevention.
While the port's primary focus is to protect the well-being of the port and industry workforce, all stakeholders are working diligently to ensure that cargo operations continue, maintaining a vital link in the supply chain to ensure everyday goods continue to be available to Americans, it said.
To slow community spread of COVID-19, the Port Administration Building, Joint Security Command and Control Center and Maintenance Facility are closed to the public through March 31, 2020, or until further notice.
However, normal administrative functions are continuing – all communications and meetings with Port of Long Beach staff will take place online or via phone. Port staff members are at work and will continue to facilitate cargo operations.
The port said it is working with the Long Beach Department of Health and Human Services, supporting communications and planning efforts. Local health officials are leading efforts to communicate with the public and to ensure continued vigilance.